Sometimes, it feels like terms we thought had some meaning really don't apply as much anymore.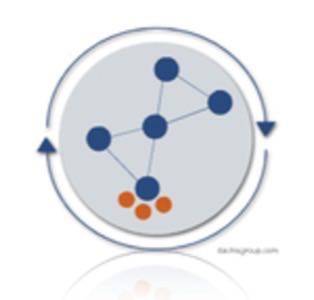 Take the term "social media," as an example.
It's like every SEO marketer decided that "social media," was the ticket to a sweet consulting gig. Just look at Twitter. You find a lot of social media experts with tens of thousands of followers. Kind of feels like you are looking down a street filled with hucksters.
Editor's note: This story is part of a series we call Redux, where we'll re-publish some of our best posts of 2009. As we look back at the year – and ahead to what next year holds – we think these are the stories that deserve a second glance. It's not just a best-of list, it's also a collection of posts that examine the fundamental issues that continue to shape the Web. We hope you enjoy reading them again and we look forward to bringing you more Web products and trends analysis in 2010. Happy holidays from Team ReadWriteWeb!
Social media once served as a term to help people understand the concepts that have risen over the past several years. It helped people understand the tools that can be used to gain a web presence. But the term took too broad of a meaning.
At some point, a nervous rush ensued. Everyone needed a social media strategy. In the process, the term and the rush for "social media" adoption became ripe for satire:
A More Holistic Approach
But that's only part of the story. The other, more accurate story, reflects a trend toward a more holistic approach in the enterprise. Social media may only represent the tools we use but social computing reflects a deeper view of how the enterprise will adopt this new generation of lightweight technologies. We disagree that executives will continue to shun the term "social." If they continue to do so, they will be swept out by a generation of far more modern managers.
Still, companies lack the capabilities and the discipline to develop operations that integrate lightweight applications into the enterprise. They need help. They use the new tools available but lack the experience for implementation. There is a need for more community managers who can help with the overall approach. These people are not "social media" managers. They use social media tools to help join a culture that is fragmented in part due to the "data silo" approach that has become predominant in the enterprise.
We spoke with the people behind two consulting companies about their approach to social computing in the enterprise: Pragmatic Enterprise 2.0 and the Dachis Group.
Pragmatic Enterprise 2.0
Pragmatic Enterprise 2.0 is a new consulting company started by Dion Hinchcliffe and Michael Krigsman. The enterprise, in their view, is still wary of social computing. They are primarily concerned about risk, control and trust.
To succeed with social computing, the enterprise has to work toward three major goals:
Address key business concerns
Demonstrate business value
Acquire social computing competency
Both Krigsman and Hinchcliffe are respected members of the Enterprise 2.0 community. Hinchliffe is the founder of Hinchliffe and Associates. Krigsman leads Asuret, a company that focuses on project intelligence and risk navigation. They work exclusively with Socialtext, led by Ross Mayfield. Socialtext predates the Enterprise 2.0 movement.
Their approach is a combination of Hinchliffe's 20 years of experience as an enterprise architect and Krigsman's long time work examining IT failure. Socialtext is their de-facto technology environment, which they chose after a review of about 70 companies.
The company begins its project by gathering intelligence, followed by tool integration, community management development and a degree of project intelligence to define the risks involved.
"We gather strategic intelligence to avoid the downsides and reduce project waste," Krigsman said in an interview. "We leverage best of breed social tools and build social computing competency."
Here's a full look at their approach:
Pragmatic Enterprise 2.0 OverviewView more documents from Dion Hinchcliffe.
Dachis Group
Dachis sees the enterprise going through an age-old transformation. Traditional software is essentially adapting to a new age. They call their approach: "Social Business Design."
Social Business Design, as they view it, is the process of creating socially calibrated and dynamic business systems, process and culture. That's a mouth full but it reflects the enterprise demand for measured systems that show people are being productive and getting the work done.
Unlike Pragmatic Enterprise 2.0, Dachis is technology agnostic, partnering with vendors when it makes sense.
The Dachis approach puts a large emphasis on the need to focus on process, culture and technology. This means creating a plan for systems architecture, helping companies adapt to the cultural changes involved and all the aspects of the enterprise that need to be taken into consideration. This means understanding issues about governance and having a pretty keyed in measurement strategy.
Here's their slide deck. It's a long one but it moves along. Pretty good, overall:
Social Business Design: The Enterprise is Dead. Long Live the Enterprise!
View more
from
.
Last Words About Social Media
Social media is still a term we use. But it has become so cliche that it is somewhat of a turn off. It's important to distinguish that the people who have championed the cause for social computing are often deeply involved with the "social media" community. They are important people in the enterprise who should be sought for leadership in bringing the world of social computing to the ways we conduct business.
Social media sounds too much like buzz hype. We need to get down to business. Social computing is a good thing. But even better is the proof that these practices work so we may use tools that help get the work done.