Larry Marcus is one investor with the ability to turn good core technology into consumer success. Five years ago he helped change the mathematical algorithm of the Music Genome Project into music sensation Pandora. Today, Marcus' work with Melodis' Sound2Sound Search Science is already celebrating market success with music identifying application SoundHound. ReadWriteWeb caught up with Marcus to hear about his latest project.

At first glance, Melodis' SoundHound is a Shazam Encore competitor with faster search functionality. Both services are among the top paid iPhone applications, both cost $5 dollars and both allow users to find songs, scan lyrics and read artist bios. Nevertheless, in addition to allowing users to identify songs from ambient background music, sung lyrics, spoken word and text-based search, SoundHound also lets you listen to music through your own iTunes library or Pandora account. With SoundHound you can capture FM radio, identify a song and create a Pandora internet radio station within seconds. And while each of these features are impressive, what we're really excited about is SoundHound's plans for the future.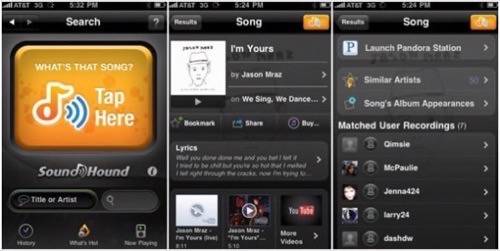 The Underlying Technology
Explains Marcus, "Most sound recognition technology converts speech to text in order to identify similarities. Sound2Sound (SoundHound's core technology) converts text and speech to phonic representations and cross references those. "
The same underlying sound recognition technology that powers SoundHound also makes Melodis' Voice Dialer application possible. What's more, Marcus suggests that the technology can have even broader applications.
"Music is just one way we're bringing this core technology to a mass market. It's a passion project that brings joy to users, but we can expand even further. To start, we believe that the best user interface ever is search."
Meanwhile, Shazam's core technology is no longer its own. The company sold its search assets to BMI more than 4 years ago to track audio files and enforce royalties for rights owners. While both Shazam and Melodis' SoundHound remain some of the App Store's most downloaded products, Shazam's product expansion is limited by BMI's control.
Marcus believes that SoundHound may just be the tip of the iceberg for Melodis. From bird call recognition, to driver assistance, to voice-activated emergency response, Sound2Sound can expand as far as its engineers can carry it. Given the attention to voice recognition in yesterday's Bing iPhone application release and the fact that mobile search has become increasingly competitive, we may find Sound2Sound integrated in some unlikely places. To check out SoundHound, download it here.