One of the first social networking aggregators to take advantage of LinkedIn's brand-new API is Sobees, whose two client applications both now offer LinkedIn integration in addition to the other supported networks. A challenger to similar services like TweetDeck, Seesmic, and PeopleBrowser, Sobees is a social networking aggregation tool originally launched as a desktop app back in 2008 with a web app version added earlier this year. Like its competitors, Sobees' clients use a columnar interface to display real-time updates from sites like Twitter, Facebook, and MySpace.

Sobees essentially functions as a social networking client for the sites it supports, each site with its own column and separate set of functions and tabs. For example, in the Twitter column, you can switch through tabs to see replies and direct messages and you can use buttons on the side to create groups or view your favorites. Meanwhile, the Facebook column offers Facebook-specific features like the ability to view photo albums and status updates or check out profiles, friend lists, and your inbox.
Sobees Adds LinkedIn
Similarly, the newly-launched LinkedIn functionality will include features specific to LinkedIn. At launch time, those are as follows:
Update your status
View connections
View profiles
Get updates (connections updates, status updates, application updates, jobs posted, groups joined, recommendations and profile changes)
Search or search with advanced functionality
While the desktop version of the program is Windows-only, the web-based application is built using Microsoft's Silverlight technology which works on any operating system, even Linux.
When you go to set up the web version for the first time, you'll be presented with the four supported services and a button reading "connect." At first, clicking the connect button seemed to have no effect but that was because the browser's pop-up blocker was turned on and Sobees launches the authorization screens in a separate window. After navigating past this small obstacle, the rest of the set up process was completed in a matter of minutes.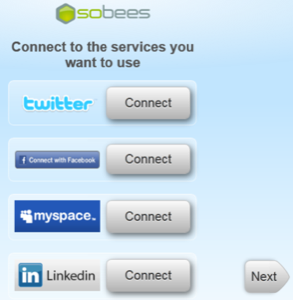 At this point, you're now presented with multiple columns containing the services you authorized during setup. You can also choose to add a real-time search column if desired and you can re-arrange the columns into a number of different layouts using the "change layout" button at the top.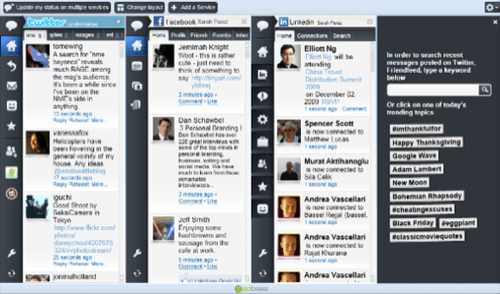 FactFinder API Integration Lets You Know if a Link is Worth Clicking
Besides simply displaying the most recent updates from the various services, Sobees also offers a unique feature other social networking applications don't have – Factery's FactFinder API integration. (Read more about Factery's API here). In short, this API allows the Sobees client to instantly and automatically parse the URLs posted in Twitter links to help you determine whether or not the link is worth clicking. Using the FactFinder toggle button to the left of the column, your Twitter stream is filtered to show only links with Factery data.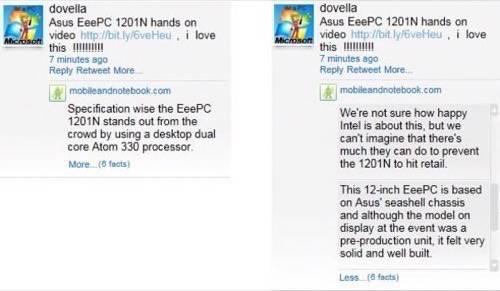 Once switched on, tweets with links are appended with the source URL and various "facts" snipped from the article being shared. Depending on the amount of info the API pulls, a "more…" link may appear at the bottom of the facts displayed. Click this link to see more facts – aka snippets – from the article in question and then click "less" to once again collapse the window. Anyone who has switched to Twitter as their primary source of news will love this sort of feature as you can get the gist of an article without ever leaving Twitter.
If you're interested in trying the updated Sobees clients, you can download the desktop version here or load the web version at sobees.com/web.