Business intelligence, analytics and the demand for process optimization are the big draws here at the IBM Information On Demand Conference in Las Vegas.

As one executive said on stage, its not enough to react quickly to what is happening but to predict it.
According to IBM's CIO Global Study, 83 percent of respondents said business intelligence and analytics are a top priority. IBM sees business analytics as the next mega trend, growing twice as fast as the rest of the IT industry.
For example, Cognos, acquired by IBM in 2007, is now a hub for IBM's business intelligence offerings.
Cognos announced its Content Analytics product at the conference. With the addition, Cognos is putting an emphasis on combining a client's internal data with external information to provide a more complete picture of the market and how to optimize marketing and processes within the organization.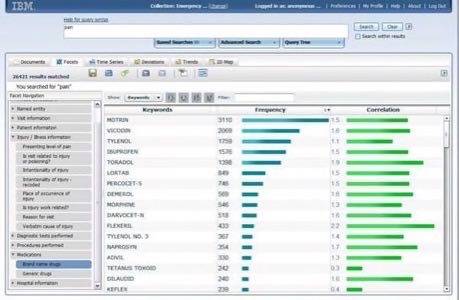 This may be used to correlate transaction information with unstructured information that the client collects from the web.
Applications may include using analytics for sales purposes to get a better understanding and deeper insights into trends that come as trickles from actual purchases. The information can be analyzed with other data from sales reps about the products they are selling. This information can then be used by sales executives to predict trends and ready the rest of the organization for changes in the marketplace.
But though this conference is about information on demand, there is little talk about the real-time web. We asked IBM executives if they can integrate activity stream information, such as a Twitter search pertaining to a company name or product. They said it was possible though it is unclear exactly how this would be accomplished.
Most of the examples we saw with Cognos Content Analytics focused on massive amounts of form data that can be viewed in a dashboard. That's impressive but we would like to see how IBM is leveraging the social web and how they plan to compete against the number of lightweight social technologies that are filling the market.
[Disclosure: IBM paid for a plane ticket and hotel room for Alex Williams to attend the IBM Information On Demand Conference.]