Once just a browser add-on that allowed users to surf smarter across several verticals, AdaptiveBlue's Glue is now a site-centric product that acts as both a hub and a spoke of the social web.

Glue's synaptic web-esque technology is based on a user's browsing across common sites such as Amazon, Wikipedia and YouTube, and those visits and any interactions (comments, "likes," etc.) feeding back to automatically create a taste profile and a web of affinity with other users and recommendations of other items or content across about a dozen categories, including music, books and movies. So, can this be done without violating users' privacy or – worse yet – frustrating and boring them into attrition?
[Disclosure: AdaptiveBlue founder and CEO Alex Iskold is a ReadWriteWeb writer.]
AdaptiveBlue VP Fraser Kelton thinks both aims can be accomplished. In a phone interview this morning, he shared that Glue has a three-tiered set of privacy controls to ensure that items are shared only when a user wants them to be. As the privacy/permissions inverse of Facebook Beacon, an ill-fated system for socially powered product recommendation, the Glue system is completely opt-in for users and opt-out for publishers.
Glue's all-new user profiles are rolling out today at GetGlue.com.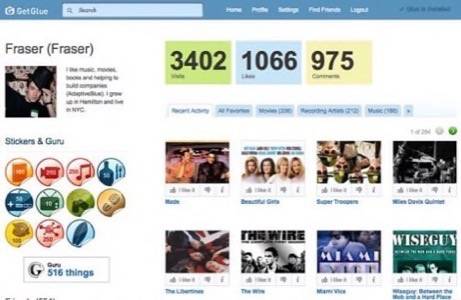 "Nobody's confortable sharing all of their stream," said Kelton. "Financial sites, adult content – we don't want any of that stuff shared." In addition to having a set list of sites from which to pull browsing and interaction data, Kelton said, "The secondary privacy controls can prevent visits to a website from being shared unless the user has a specific interaction on that site. You can also opt to have a private profile so only your friends can see the items you interact with." Finally, Kelton told us that users can delete or edit their own shared content on an item-by-item basis.
Our other concern was whether Glue would be a semantic web geek-fest or whether the average end user would also be able to use, enjoy, and return to the site. Kelton said the site went over well with non-techie beta testers, many of whom started out using the GetGlue.com website and eventually also installed the add-on for an even richer experience.
One of the factors we think makes Glue so much fun for end users, from geeks to complete Luddites, is its Foursquare-like system of achievement and rewards. "We're big fans of game interaction driving the user experience," said Kelton, who also revealed that the product team considered Xbox 360 as inspiration for the Glue system. Users can earn stickers on their profiles based on how many items they browse or interact with, how many users discover content through them, and how much of an expert they are on a particular topic.
Glue's game-like system of badges or stickers as rewards for user interactions and discovery makes for addictive browsing.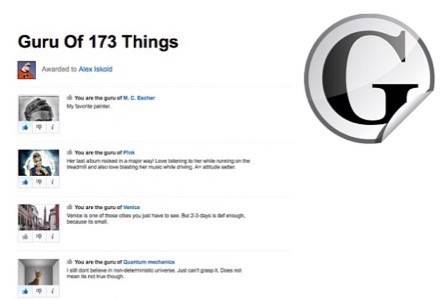 Each item indexed by Glue can have a guru, and only one guru at a time. The result is friendly competition, increased interactions and a very sticky website that's compelling and entertaining for even the least technical end user.
The site also allows for content to be pushed to a user's existing social networks, such as Facebook and Twitter. Here's a demo video showing more about how the site works:
As previously mentioned, the user experience of Glue – both the site and the revamped add-on – is one of synapses and nodes, not back-and-forth browsing and search for content. As data and content from all around the web is associated with films, books, music, and other items, users are able to quickly scan and consume related content without further navigation. This type of curated experience is something the AdaptiveBlue team calls "shortcut search."
As a social network, GetGlue.com is a hub; but the way it curates content makes it a series of spokes, as well.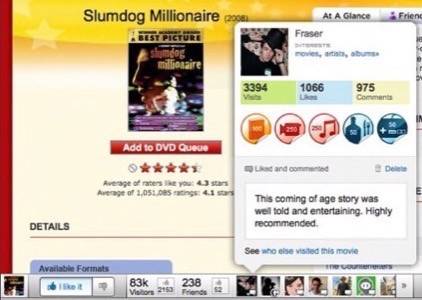 "You don't have to go to Rotten Tomatoes or YouTube. We know there's a subset of information users want, and we're bringing it in," said Kelton, who is very excited about Glue's position on distributed social networking and the semantic web. "Jeremiah [Owyang] uses the term 'social colonization.' I also think we're implementing what Charlene Li talks about when she uses the phrase, 'The network is all around us.'"