We're at the 6th annual Web 2.0 conference, now known as the Web 2.0 Summit. John Battelle and Tim O'Reilly opened the event. O'Reilly spoke about being at another transition point for the Web. They have termed this "web squared", a.k.a. "web meets world." O'Reilly said that in the current era "we're starting to instrument the world." He referenced a quote from VC Fred Wilson, that we are currently in a "golden triangle of mobile, social and real-time."
O'Reilly remarked that we're seeing "what may be the next wave of internet business models." Speaking about the evolution of both the conference and the web 2.0 trend, he noted that the "revolution we're seeing today is as great as the one we saw five years ago."
We at ReadWriteWeb have been noticing something new in 2009 too. At the ReadWrite Real-Time Web Summit last week, I spoke to a number of startups and smart Web people. There was a real sense of excitement and innovation in the air, which reminded me of the first Web 2.0 conference I attended in 2005 (I wasn't there for the first 2004 event, although I followed it on the Web at the time).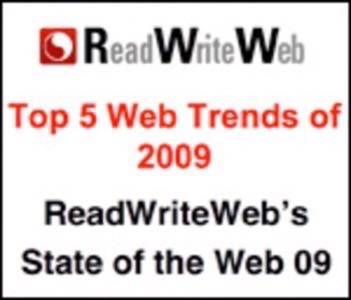 Last month we ran a series of posts outlining the 5 biggest Internet trends of this year: Structured Data, Real-Time Web, Personalization, Mobile Web / Augmented Reality, Internet of Things. Effectively this was ReadWriteWeb's State of the Web 2009.
We compiled the main points into a single presentation, available on Slideshare and embedded below. We think these trends show that we are indeed at an inflexion point of the Web, as Tim O'Reilly noted at the Web 2.0 Summit today. We'll be exploring more of these and other cutting edge Web trends over the coming months on ReadWriteWeb.