When building a new Web 2.0 site, especially a new social network, there's always one hurdle that needs to be overcome – establishing a large enough userbase to make it both attractive to newcomers and worth using once you arrive. A new site launching today, Spiffbox, thinks they have figured out how to workaround this issue – they're paying users to participate. Yes, when Spiffbox says they're the new social network where "it pays to be social," they're not kidding. Every action you take on the site including responding to emails, chats, friend invites and sharing photos, will earn you points which can then be redeemed for cold, hard cash.

A Social Network to Complement the Others
Instead of trying to establish a new userbase from scratch, Spiffbox integrates with the social networks Facebook and Twitter. They even have their own Facebook application so you can interact with other Spiffbox members while logged into Facebook.
However, unlike those two popular social networks, which are designed to connect you with people you know or admire, Spiffbox wants to connect you with others who fall outside your social graph. That is, the site wants to help you make new friends.
Spiffbox is also different in the fact that it's not entirely meant to be just for socializing – it wants to help you promote your career as well as ask for and receive advice from other users.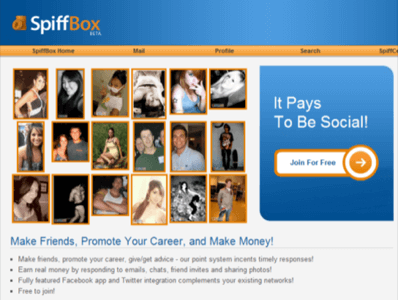 How You Make Money
Of course what everyone wants to know is: how do you make money on Spiffbox? Basically, all that you need to do to start earning is participate. To earn points, users should create a profile, communicate with other members, respond to messages, and optionally complete surveys or take merchant offers. With each action, more points are earned and when you reach a certain threshold (min. 2,000 points/$20), Spiffbox puts a check in the mail. You may be surprised to learn that reaching that payout number is not as hard as it may sound. Accepting a chat invite earns you 28 points, accepting a friend request is 10 points, and so on. After spending some time really engaging on the site, you could easily start earning cash.
While we have to give Spiffbox credit for thinking outside the box on this one, the idea of paying you to socialize has us feeling a little sour. After all, remember how you used to rack up the "friends" on MySpace only to be left with a large network of random people you didn't know (or care to)? There wasn't actually any value in that. And besides, if everyone on the site is only participating to make money, socializing becomes more like a job than a fun activity. Can't you just see the chats now?
Them: Hi! Want to chat? I'm trying to earn points.
You: OK, me too.
Them: So how long do we have to do this to get credit?
You: I don't know, I think this is good.
Them: Great, thanks. Let's chat again later for more points!
You: Sounds good! Cya!
Oh, the horror. Frankly, most of us have better things to do with our time than trying to earn points for small payouts of cash. What Spiffbox needs to remember is that all the popular social networks caught on – without bribes, mind you – because they were offering something unique and interesting. Creating yet another social network without any truly new concepts behind it (except for the payola) isn't going to be enough in the long run to keep people involved.
However, that's just our opinion. Others feel differently. For example, CNET says that "once the site irons some of its kinks out and becomes a little more user friendly, then we could start to see some real widespread adoption" and "there could be a real future in this space."
What do you think? Does Spiffbox have a shot at becoming the next big thing? Or is bribery a bad choice? Let us know in the comments.
Update: We were informed by the company that the example chat in this post isn't exactly how Spiffbox works. It makes it look like both parties are earning money when really only one party would. The initiator of a message pays points and the receiver gets points, but only if they respond. Spiffbox itself doesn't pay you, members pay each other. However, we stand by our opinion that using financial incentives is not going to be a successful model for growing a social network, regardless of where the money originates.