Twitter just announced that the rumors were indeed true and that it has just closed a "significant round of funding" from a group of five investment firms. While Twitter didn't disclose the actual amount it received today, the Wall Street Journal reported yesterday that Twitter was going to close a $100 million round which would put Twitter's valuation at around $1 billion. At that time, however, the assumption was that up to seven firms were going to be part of this deal. Chances are that today's round is slightly smaller than the rumored $100 million.

Has Twitter Peaked?
At the same time, though, the latest data from Hitwise shows that visits to Twitter's main domain have slowed down markedly over the last few weeks. This number doesn't take users into account who access the site from third-party applications, but it does show that a smaller number of users are going to the main site, which indicates a slowdown in new user adoption. Hitwise's Bill Tancer also found that fewer users are searching for Twitter on search engines. Hitwise's Clickstream report also shows a drop-off in new users that are coming to Twitter since April.
In April, of course, Oprah famously joined Twitter and the hype cycle around the service was in full swing. It looks like normality might be setting in now and growth is indeed slowing.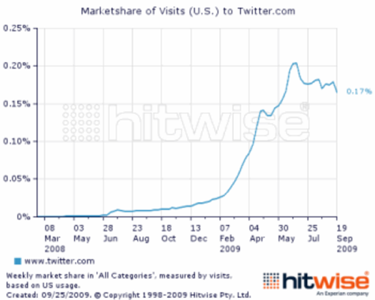 The question, of course, is if this is just a temporary slowdown or part of a larger trend. Maybe everybody who was going to join Twitter has already joined and the rest of the potential users are simply happy to use Facebook instead?
For now, we want to congratulate Twitter on closing this round, which will give it a chance to improve its technology and grow its team. At the same time, though, we also hope that Twitter will finally release some details about how it plans to make money in the long run and validate this valuation.