Satoshi Nakajima is the creator of the world's first CAD application for the personal computer. He was a defining force behind both Windows 95 and Internet Explorer 3.0. These days, he's put his mind toward helping mobile developers create revolutionary applications.

Today, Nakajima is launching WidgetPad, a free, collaborative, web-based, open-source mobile development environment where developers can easily create smartphone applications using standard web technologies (such as HTML 5, CSS, and Javascript) and distribute them as stand-alone applications to app stores.
WidgetPad aims to alleviate the complexity of creating native applications and eliminate the need to learn platform-specific API sets and tools. The current set of tools for iPhone developers allows them to create fully interactive, media-rich mobile apps that take advantage of the iPhone's advanced hardware capabilities (GPS, accelerometer, compass, etc.).
Upcoming versions of WidgetPad will enable developers to seamlessly port these applications to other smartphone devices such as the Palm Pre and Blackberry.
The online WidgetPad development environment uses a hosted SaaS model and is completely free. Developers will have to adhere to an open-source agreement, and their apps will be available through a generic WidgetPad application on the iPhone. A premium version is planned, which will allow developers to work outside of the open-source license on private projects and deliver stand-alone, branded applications.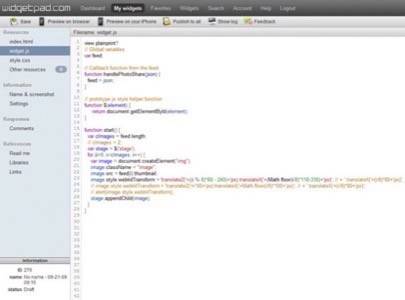 "I've been developing a lot for the iPhone – a very exciting market, but it's closed," Nakajima told us in a phone conversation last week. "The apps only work on one device, and Apple controls the distribution. The smartphone application should be much more open… We're pushing hard to make it an open-source community."
Nakajima also expressed his faith in the value of emerging web standards, saying, "I think our hope lies in HTML 5. It's like AJAX on steroids. I think that's the future – a lot of applications will be developed using this technology… But that's going to take time. A lot of innovation needs to happen. What we want to do is accellerate that innovation."
The WidgetPad founder believes that, with strong support from entities including Google and Apple, HTML 5 will ultimately supplant C++, Objective C, and Java.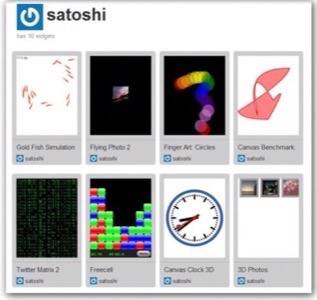 And of course, the mind behind IE3 also has browser-based views on how apps will be served to users.
"I believe that the web will become an application platform – everything will be delievered via the browser. That was my thought in 1996 – it's taking longer than I originally thought," he said with a smile in his voice.
And with regard to mobile development for the multitude of available smart devices, Nakajima concluded, "It's really about community… We're trying to get a lot of other developers to work together; we want everyone to work on solving this problem."