Can apartment buildings be communities? Modern times bear little resemblance to the A Tree Grows In Brooklyn, it-takes-a-village scenes of yesteryear; but one startup, at least, is attempting to foster a greater sense of community on a hyperlocal level.

BuildingBulletins provides a simple, social interface for building residents to communicate with one another on just about any relevant topic. From community classes to Craigslist-style classifieds, the site lets residents connect with their neighbors and, as one of their cofounders wrote to us, "get stuff done in their building."
So far, user adoption for the self-funded site is fairly minimal; the most active building boasts 6 users who are residents. Overall, the site has 48 discussions happening in 112 buildings. Ultimately, it's going to take more users in more buildings to make the site work. But the beauty of a hyperlocal tool like this is that even if only a handful of buildings have users on the site, as long as the saturation of active users in those buildings is fairly high, the site could be useful and successful.
The creators say the site's bulletin boards and other features, such as a live chat module and a building calendar, can be used to make new friends, create discussion topics, organize events, advertise real estate or rentals, buy or sell items, submit pictures and other information about a building, find a house-sitter, and yes, hook up with other residents to avoid that long walk home.
As a sterling example, the residents of Barclay Tower in TriBeCa are using the site to organize a pool party meet-and-greet, complain to one another about the noise, gush about their respective dogs, and chat about the building's lease capacity.
We also particularly liked the Google Maps-powered auto-search features to find nearby restaurants, grocery stores, banks, etc.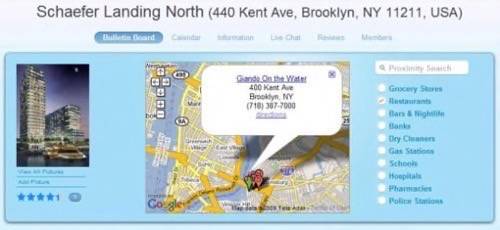 BuildingBulletins is a charming tool that fosters community within neighborhoods, something that's decreased greatly in the digital age but seems to be on the upswing with sites and apps such as this one, BrightKite, Foursquare, and their ilk. It's almost enough to make us want to move back into apartments again.