Enterprise collaboration company Socialtext has launched a mobile edition of its software suite, giving its customers better access to its activity streams, wikis, microblogging and more for the first time. The beta of Socialtext mobile is available now for all users.

Rather than a native application tailored to the iPhone, BlackBerry, or Android, Socialtext chose to create a mobile browser version that is cross-platform by default. The site will detect when you're logging on through a mobile device and redirect you to a subdomain with a custom UI built to resemble Socialtext's desktop app.
First A Mobile Wiki, Now More
Three years ago Socialtext launched miki, one of the earliest serious attempts at a mobile, enterprise-class wiki. Though miki may have been ahead of its time in many ways, it didn't see a huge amount of adoption.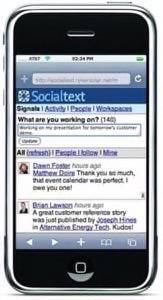 Since then Socialtext has greatly expanded its platform, including an Adobe AIR desktop app to accompany the Web-based version. Socialtext President and co-founder Ross Mayfield said that the new mobile UI was modeled on that desktop app, providing a familiar experience to those customers who need alternative ways to access their content.
Why No Native App?
But why didn't Socialtext create an iPhone app? If you demo the site, it's clear that Socialtext mobile isn't meant to be a rich application with full interactive abilities, like those for social networks such as Facebook and Twitter.
Instead the browser is tailored to provide simple access to communicative tools like the activity stream and microblogging, as well as the list of company profiles and contact information. With that in mind, the mobile edition is a more convenient way to keep tabs on workplace activity.
Considering the mobile approach of some Socialtext competitors, not having an app shouldn't be a letdown. Pure microblogging plays like Yammer have native apps, but as soon as you provide something more complex than short messaging, fewer vendors go that route. Jive provides no mobile support outside email integration, and MindTouch has a browser skin similar to Socialtext.
Socialtext mobile is accessible to all users immediately, including those using the free 50-user version the company launched in June. The only limitations in the beta are read-only access to SocialCalc spreadsheets and no access to the administrative dashboard. The next mobile launch is set to include some of those features.
Disclosure: Socialtext has been a ReadWriteWeb sponsor.