Bing Local Search has some interesting features you won't find in Google, so the prospect of seeing Bing listings appear on top of your iPhone's camera viewer when you point at a restaurant or business is intriguing. That's what forthcoming iPhone app RobotVision offers – and it displays a view of Tweets and Flickr photos published nearby wherever you are.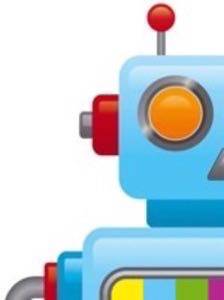 RobotVision is a new Augmented Reality (AR) app for the iPhone 3Gs. It's not available yet, but it will be as soon as AR apps are formally welcomed into the App Store by Apple, probably sometime next month. AR browsers "turn the world inside out" by exposing latent online information about your surroundings; there will soon be enough of them that they will compete based on user experience. RobotVision looks like it could be a good one.
RobotVision was built by Portland, Oregon's Tim Sears, a developer at a major PR firm by day and a side-project innovator by night. His last project was Twitter sentiment analysis service Twendz. RobotVision is the first iPhone app he's ever built. "This was easy to develop," he told us. "Well, not easy – I busted my butt nights and weekends for the last month."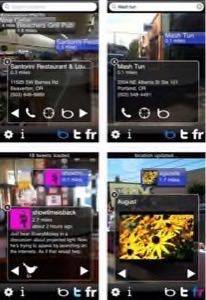 Does that mean that AR browsers will be commodities? "I hope not, for my sake!" Sears says, "But I do think there's going to be a lot of them. I look at it just like building a website. You have your data source and you're just trying to parse and present your data in a meaningful way, just like you would on the web."
Layar, Wikitude, Yelp, PresseLite, AcrossAir – the Augmented Reality market is heating up fast and there's not even official support for AR on the iPhone yet. (Android welcomes AR apps already.) Sears guesses that once that support comes, as many as half a dozen other competitors may pop up. It may be far more than that. Sears says he plans on building one-off white label implementations of RobotVision as his business model; Universities might want a version for campus locations, for example.
What is Sears bringing to market product-wise to try to differentiate? User experience development is what he's spending the majority of his time on right now.
By using Bing Local search to glean location and business review data, RobotVision gets access to some key Bing features like aggregated reviews from CitySearch, Judy's Book and Yelp. Bing looks at the reviews of restaurants and tells you how they stack up in aggregate for a business' food, ambience, service and more. (That's a feature we've seen at BooRah, though that service doesn't have access to Yelp reviews.)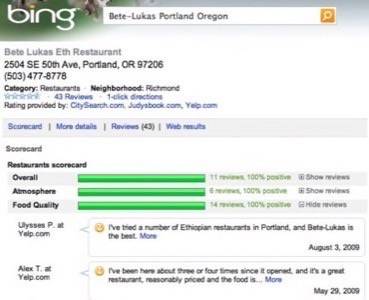 If you've seen the new Yelp iPhone AR (it just launched yesterday), you probably noticed that all the pushpin markers for sites in the direction you're facing are lined up top to bottom. RobotVision layers its presentation based on proximity and then paginates the windows that appear when you click on a marker, so it's easy to browse nearby spots.
RobotVision's options to view local Tweets and Flickr photos bring more richness to the places you're looking at.
When you point your phone at the ground with RobotVision running, it switches to map mode and displays pushpin markers for all the nearby spots in that format.
UX and AR
There are a lot of possible ways RobotVision could integrate the map and the AR camera view in this app. AR is hot, but a good AR app in the future will probably defer to other ways of displaying data when appropriate. AR should complement other ways of seeing the world around us, not be expected to replace maps, lists or the naked eye.
These are the very early days of Augmented Reality apps, and current implementations are very simple. Even in their simplicity, though, there will be a lot of variance in the ways that different parts of a UI work together on each respective AR app.
Putting geo-tagged data on top of a mobile phone's camera viewer is not difficult. How an AR platform goes about collecting, displaying and interacting with those layers of data will probably make the difference in a crowded market. (For more on the UX of AR, see this long post by Joe Lamantia.)
Problems With RobotVision and AR Apps in General
AR apps are at the mercy of the publishers of the data they display. RobotVision's comprehension of its surroundings was pretty good in our tests, but not perfect. One restaurant we walked past didn't show up when we pointed a phone at it – but its information did appear when we pointed away from the building and down the street.
Sears says that GPS on mobiles still takes some time to calibrate each time you turn it on. It's often not that accurate anyway, and many places are mapped to their nearest street intersection instead of their exact location. Likewise, if a phone doesn't have a clear line of sight to a GPS satellite, then further inaccuracies can occur. Inaccuracies in location-based Augmented Reality mean that you could be shown things that aren't really there and miss things that you ought to see.
We suspect that just as GPS data providers historically didn't want to make GPS data available in real-time until the killer turn-by-turn driving apps that required it arrived, so too could a new economy of GPS users seeking greater location accuracy for Augmented Reality help usher in a more accurate level of service.
These are very early days for the world of commercially available Augmented Reality, but its utility and value are clear to many people. Bring on the competition and best software to win the hearts and handsets of users!
Tim Sears expects to launch RobotVision next month. He'll launch his AR browser at the same time that many other people launch theirs.