Earlier this week we looked at the top 50 web properties in the U.S., according to comScore, and analyzed the changes over the past year. The top 5 were almost the same, except for the entrance of Facebook at number 5. What really caught our eye though was the progress of several less glamorous brands up the comScore charts. We profiled one of them, Demand Media, yesterday. Today we look at a site that wasn't in the top 50 one year ago but is now ranked #26. The Answers.com site gets over 28 million unique visitors per month, according to comScore.

How has Answers.com achieved this stellar growth? The same way Demand Media has: sheer quantity of content.
UPDATE: Bob Rosenschein, CEO, Answers.com, left a comment on this post with some illuminating data points. He first notes that the majority of page views comes from WikiAnswers.com, which had 22M uniques in July '09 while Answers.com had 10M "with some overlap." What's more, he notes that "the growth in our traffic is almost entirely from our WikiAnswers site."
Answers.com is a reference site, similar to The NY Times' About.com. It claims to have content on 5 million topics from "over 180 licensed sources" such as Barron's, Encyclopedia Britannica and Wikipedia. Much of the content we saw in our tests came from Wikipedia, however.

Answers.com is run by Answers Corporation, which also has Q&A site WikiAnswers.com in its stable.
How Answers.com Works
In some ways Answers.com is the same as Demand Media – both output huge amounts of practical, useful reference content. This content attracts Google's spiders, which is a big part of the success of both companies. That's probably where the similarities end, because Demand Media largely produces original content. Answers.com, on the other hand, is basically a giant aggregator of third-party content.
The difference was noticeable in an example query I did for both sites: what is an rfid chip? The eHow page on RFID chips was short, basic, uninspiring content. The result on Answers.com was a long, thorough article about RFID chips. Impressive… except the content is actually from Wikipedia. If you scroll right to the end of the page, you will see a single sentence acknowledging this. But most people would probably be unaware that it's not original content. Why? Because this Answers.com article is peppered with links to other Answers.com pages. This of course is great for SEO (search engine optimization). UPDATE: Answers.com CEO Bob Rosenschein commented that "we put a no-index on pages which contain only Wikipedia content, so that they do not even show up in Google's index."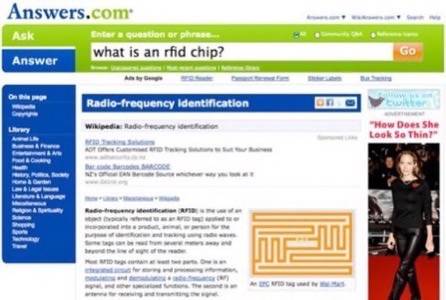 Answers.com's modus operandi boils down to this: use content from other sources, judiciously replace all of the links to point to their own domain, and reap the page views that result from Google. It can use Wikipedia content so liberally because it is licensed under Creative Commons.
The Secret to Success: Millions of Pages Indexed by Google
Answers.com has a staggering number of pages indexed in Google: 31.8 million! This is only 11 million less than Wikipedia (currently 43.1 million). By comparison, Demand Media's eHow has 'just' 4,320,000 pieces of content indexed in Google. About.com has 6,150,000. ReadWriteWeb.com has 30,100.
Note that Answers.com isn't necessarily highly ranked in Google. Answers.com has a Page Rank of 7/10, whereas Wikipedia is a 9. ReadWriteWeb has a Page Rank of 8. A search on the phrase "what is an rfid chip?" in Google revealed that Wikipedia holds the top slot and Answers.com doesn't even make the first page. So we can fairly say that Google isn't rewarding Answers.com for the quality of its content – or more correctly, it isn't necessarily being linked to by high-quality sources like Wikipedia is.
Conclusion: Quantity, Quantity, Quantity
We noted yesterday that Demand Media largely competes on quantity instead of quality. Answers.com takes quantity to another level altogether – and it can do this because it produces little if any original content.
Just look at Answers.com's growth over the past couple of years. The results speak for themselves.