In our recent post about the top 50 web properties in the U.S. according to comScore, we noted that Demand Media is on the rise – moving from #36 to #24 in the past 12 months. Demand Media owns a number of successful sites, including ehow.com, Pluck and eNom (the second or third-largest domain registrar in the world). The company also proclaims itself to be "the leader in social media solutions." Demand Media provides social media platforms to corporations and has a strong SEO business, creating niche website content tailored to search engines.

In short, Demand Media knows how to get page views.
Demand Media's original plan in 2006 was to buy up millions of domain names and stick content on them in order to monetize. Further into 2006 it added social media to the mix and since then the company has grown from strength to strength.
Demand Media operates based on a simple formula for success on the Web: create a ton of niche, mostly uninspired content targeted to search engines, then make it viral through social software. Demand Media has been heavily funded to carry out that mission, to the tune of $355 million. So yes, brute force – quantity of content + money/power – works more often than we'd like to think on the Web.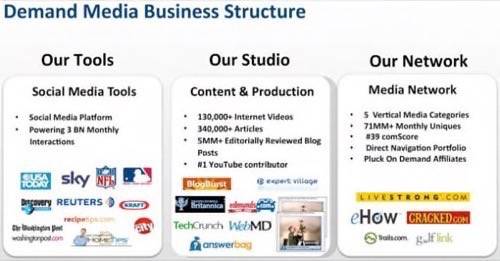 Demand Media was founded in 2006 by Shawn Colo and the former chairman of MySpace.com, Richard Rosenblatt. ReadWriteWeb first profiled Demand Media in November 2006, at which point we somewhat cynically concluded: "[the] next generation of new media it may be, but it all comes down to quantity in the end." Which is pretty much how it's panned out.
As of November 2008, Demand Media claimed to power 3 billion monthly social media interactions and was the #1 YouTube contributor. According to comScore, in July 2009 Demand Media had 31 million unique visitors.
Where Does the Content Come From?
Demand Media sources a lot of its content through freelancers, via its Demand Studios. The company has gotten content from over 10,000 people and uses a proprietary editorial system (apparently including "predictive algorithms") to publish it. As of May 2009, Demand Media claimed to have created more than 500,000 unique pieces of content – at a staggering rate of about 2,000 pieces of content per day! [Update: Demand Media contacted us to say that the total figure is now "nearly 1M pieces of content."] From YouTube alone, Demand Media garners 2 million impressions per day.
BusinessWeek explains the economics for contributors, but basically there is a set fee and percentage of ad revenues.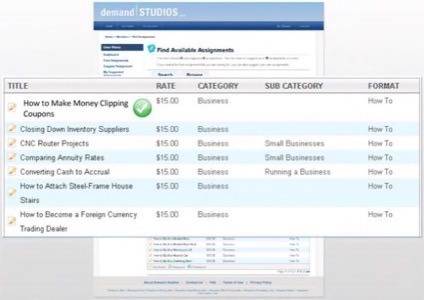 Conclusion: Demand Media Will Continue to Move up comScore's Charts
It's easy to be cynical about Demand Media – it creates truckloads of content very cheaply, uses social websites like YouTube to make it viral, and gets tons of page views as a result. But… it works. Demand Media earns more than $200 million in annual revenues, according to BusinessWeek.
Whether we like it or not, success on the Web mostly comes from quantity and not quality.
One does have to admire the system that Demand Media has built up to create content at little expense, make it viral and monetize it. The company's rise up the comScore Top 50 shows that this strategy is paying off big time.
We wouldn't be surprised to see Demand Media near the top 10 in comScore within a couple of years. As long as search engines like Google continue to rank niche, topical content highly – and we see absolutely no reason why they wouldn't – then Demand Media will continue to pump out thousands of articles a day to feed that page view generating machine.