A company called Sweb Apps has just launched a new service which lets anyone build iPhone apps, even if you don't have a technical background. The service is aimed primarily at small to medium-sized businesses who don't have an in-house or on-call engineering team capable of developing mobile applications. Instead, using the Sweb Apps website, business owners can create their own iPhone application themselves in as little as five minutes, says the company.

On the newly launched site at swebapps.com, a big orange button reading "Start Building" is all you need to click to get started creating your own iPhone application. Then, only six steps later, you'll have a completed iPhone application ready for App Store submission, a process which Sweb Apps will handle for you, too.
How to Build Your App
Since the service is designed for businesses, one of the first steps is to select your particular industry from the provided categories. At the moment, these include: Restaurant, Retail Store, Business, Non-Profit, Government, Education, Entertainment, and Customization, a category which lets you design your own personalized app if what you're creating doesn't fit into one of the other categories.

From within each of these sections, there are various buttons to choose from. For example, in the "Restaurant" category, you can add buttons like "menu," "reservations," "map," etc. There are even buttons for Facebook and Twitter which allow you to direct customers to your Facebook and Twitter profiles. Sample layouts are provided, too. After picking your buttons, you create your Sweb Apps account and submit the information about your business. The fifth step is to customize the application with your business's personalized info. In the case of the restaurant app, for example, that would mean filling out the menu, listing your hours and address, and so on.
The final step is to submit payment. Prices vary depending on which package you choose. Packages with 4 buttons are $200, 6 buttons are $300, and 8 buttons are $400. In addition, Sweb Apps charges a $50 one-time setup fee and a $25/month hosting fee. For an extra $10/month, business owners can optionally choose to add on a simple analytics package called "App Tracker" which lets you track the number of downloads and button clicks. By tracking this sort of information, it's easy to tell which buttons are accessed most and which are being ignored, allowing you to re-design the app to better engage your customers.
Customizations
While the process of app building is extremely simple, and yes, we were able to create a basic app in a matter of minutes (we stopped short of paying for it of course!), the end result is a somewhat basic-looking application. But there are a couple of things you can do to spruce it up a little. For one, you're able to select your own background color, and this can even be a custom color of your choosing. Sweb Apps also lets you upload your own button images instead of using the defaults provided. This would definitely give your app a more unique and personalized look, so it's worth looking into. If you're not all that handy with Photoshop yourself, it would be a good idea to hire a designer or crowdsource the project through a site like 99Designs or CrowdSpring and have someone create custom buttons for you.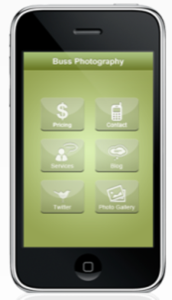 The Best Part: Real-Time Updates!
If anything ever changes and needs to be updated, you simply return to your Sweb Apps account and make the changes there. Instead of waiting on Apple to approve the update as is done with traditional iPhone applications, the updates to Sweb Apps go live in real-time thanks to the company's hosted Content Management System. With Sweb Apps, all the app's content is housed in the company's own database which is why it's able to be updated on-the-fly (and why there's a monthly hosting fee). The possibilities here are endless. This feature allows a business to promote one-time events, specials, coupons, sales, or anything else that would be offered on a limited time basis. This, in fact, may be the best feature of the app builder. Real-time communication with your customer base through the mobile is exactly what applications should provide, but when relying on Apple and their mysterious approval process, the delays involved often prevent this from happening.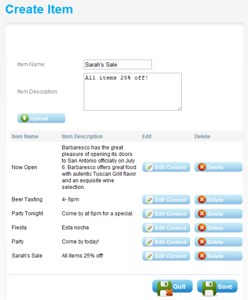 Sweb Apps could function as a way for businesses to distribute mobile coupons, too. With buttons like "Photo Gallery" which can be renamed to anything you like (such as "Coupons" or "Specials"), businesses could update their apps with pre-designed mobile coupons, if they so wished.
Lots of Potential, Future Plans
Not that long ago, we wondered why there weren't more iPhone applications for businesses available in the App Store. It's possible that was because the tools to make building mobile apps easy were simply not good enough. With Sweb Apps, though, this could quickly change. Being able to build a mobile application with no technical know-how using a dead-simple onscreen guide is the sort of mobile service we're sure many businesses have been dreaming about. (At least we hope so! We would love to track the sales at a few of our favorite local stores via our iPhones.)
The company plans to introduce more features into their service in the future including premium buttons, Flash-based content (assuming Apple ever approves Flash on the iPhone), in-app advertising opportunities, and more. Next year, the company also plans to launch app builders for other mobile platforms including Android, Blackberry, and Palm Pre.