Despite the unfortunate name, Doodle is a dead-simple Web app for scheduling a meeting. In our experience, scheduling meetings is a chore, with the most common method to be just emailing around to solicit advice. That's inefficient, and this single-purpose software as a service is one solution. Recently the service, which has been around since 2006 and is normally ad-supported, started offering premium accounts with greater customization and no advertising.

Especially for enterprise customers, we don't normally recommend many apps that are so single-purpose. Relying on a growing array of SaaS services that each do one thing can be a huge impediment to productivity.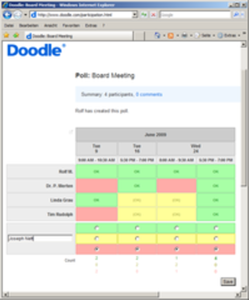 But to use most of the popular general-purpose tools available to schedule meetings with is a serious pain in the neck. Doodle, as well as competitors such as Tungle, can make this process easier by creating a one stop shop for polling coworkers.
In our test of the free version of Doodle, it took less than five minutes to set up a poll for meeting scheduling, and that seems like something worthy of being called simple. More advanced options include polling for a range of dates and exporting results to PDF or Excel. There is no limit on the number of participants, and poll creators get administration rights.
The most basic version of Doodle doesn't even require an account to use, but anyone who wants custom theming or branding for their business needs to log in. The new premium option is normally $28/year, and features custom fields, comprehensive theming and branding opportunities, and is ad-free.
If you'd like to try out the premium Doodle free for a year, just use the coupon code: vyhrsa2f (all lowercase) when you sign up. And it looks like all the invites are gone now.