Maybe it's odd to be recommending iPhone apps right now, with the house of cards that is the confused App Store policy falling down on Apple's head. But business users, we know you've got no time for listening to the woes of developers. You need to get things done.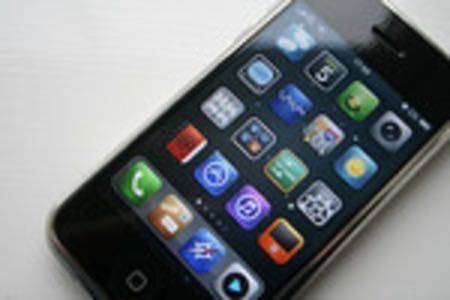 From file sharing and mobile meetings to serious data analysis and business intelligence, here are nine of the coolest apps for enterprise iPhone users that we could find. Considering the economy, we also tried to stick to the free and low-cost options, and you'd be surprised just how much you can get for so little.
Roambi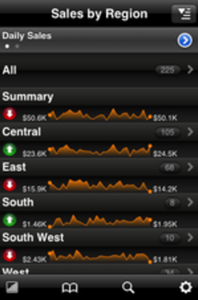 For data geeks, this is the coolest enterprise app ever made. Roambi is basically a visualizer for reports and business intelligence, and the enterprise server lets you connect with data from applications like Excel, Salesforce.com, Web Intelligence and Crystal Reports. If you haven't taken a look at this, go do so right now.
Cost: free
Get it
Box.net
Box.net is a SaaS collaboration and file-sharing platform that positions itself as a SharePoint alternative. The free mobile app, which is also available on BlackBerry, lets you stay up to date on the files being shared in your company. There are other file-sharing and FTP apps out there, but Box.net is fast, is reliable, and has the right approach to collaboration.
Cost: free
Get it
Fuze Meeting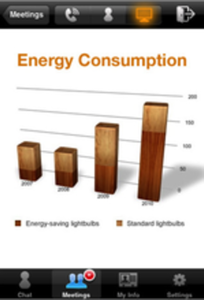 I prefer Fuze Meeting's mobile version for meetings and Web conferencing to the Cisco WebEx iPhone app. It works just as reliably and has a chat feature that's on par with others, but it's a much more intuitive and interesting experience. That's sure to be a win when it comes to holding people's attention during mobile meetings.
Cost: free
Get it
Bump
Bump isn't limited strictly to business, but it's the best business card replacement on the iPhone. All you have to do is open the app, hold your phone, and then gently touch hands in the fist bump position. That's it. There are other virtual contacts applications, but the physical action required in Bump is just cool. Adding a simple meatspace component was a stroke of genius and makes Bump a joy to use.
Cost: free
Get it
iXpenseIt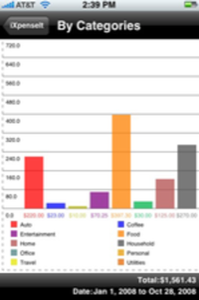 The best thing about this expense recorder is that zero functionality is withheld in the free version; you're just limited to 10 expenses. Entering your data is easy, but the two really nice features are how they're viewed and what you can do with them. Once you've got all your expenses in the app, you've got the choice of three different viewing options: summaries, bar charts and graphs. Once you've got a handle on things, you can export the data via email in either HTML or CSV.
Cost: free for the Lite version or $4.99
Get it
Things
There are so many apps for to-do lists and task management it's insane. I use a free one, and the mobile version of Remember The Milk isn't bad either. But in a crowded space, we're going to take advice from a geek we trust and recommend Things. It's got an easy-to-navigate interface that's not too busy, but it's a little more fully-featured than most of the free to-do list apps.
Cost: $9.99
Get it
FreshBooks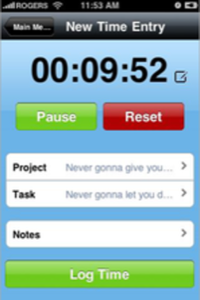 Mobile time tracking and invoicing are fantastic, and FreshBooks' mobile app gets the job done in that department. Doing time tracking on a mobile device is something I find much easier even if I'm working on my laptop or desktop, and the easy switch from tracking to invoicing makes life much easier.
Cost: free
Get it
Yammer
We've pointed out the big problems with Yammer in the past, and enterprise microblogging is a space that's still developing quickly. Obviously, if your coworkers are reluctant or IT policy prevents it, this isn't going to be a useful app. But if you're using Twitter for the enterprise, Yammer has the best mobile integration at this point. Be sure to look for mobile apps for other platforms coming in the next year or so.
Cost: free
Get it
Salesforce Mobile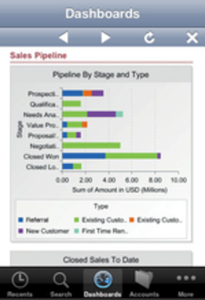 Last but not least is the mobile app for the elephant in the room when it comes to SaaS CRMs. Salesforce's mobile support is impressive, to say the least. For mobile salespeople out chasing leads, there's no better way to access all kinds of essential data.
Cost: free
Get it
If you've got any other favorite iPhone apps you use for business, be sure to mention them below. There are some great apps we didn't mention here for the sake of sticking to the broadest possible audience, but we know that ones specific to sales, content management and IT are out there.
Photo by William Hook