Stockholm-based startup Spezify is a visual search engine that impresses with relevant results displayed in a visual but still functional way.

Founded by Felix af Ekenstam and Per Persson, digital creatives who have over 10 years of experience in the space, Spezify arrived in beta in April and launched officially about six weeks ago. Results are culled from a number of search APIs and include social and multimedia content presented as a mosaic of the "big picture" for any search terms.
"Web search has looked more or less the same since 1994," said Persson in a press release. "We were missing a place generating an instant and appealing overview of a certain subject, regardless of media. In addition to finding the expected, Spezify gives you new associations and lets you discover things you didn't know were out there."
Results come in from sources as diverse as eBay, Flickr, Wikipedia, Twitter, Amazon, YouTube, Yahoo!, and MSN search. The team tries to add APIs continually to improve the search experience, which, so far, hasn't actually left us wanting much. Spezify also suggests related terms for search.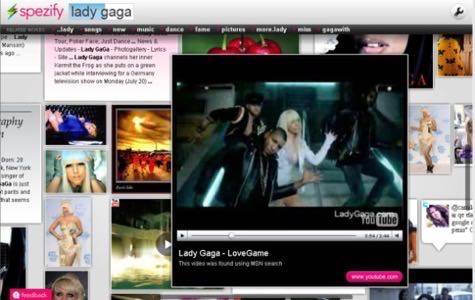 We tried out a few terms, of course. Some were rich with multimedia information. Other, drier topics led to search pages with meager and irrelevant content.
And we did love that search results, even YouTube videos, could be examined from the Spezify search page. We'd love to have instant options for forwarding, posting, and sharing results across other social networks.
We did experience a couple minor issues when using the site. Many of the images, when clicked, take a while to display at their proper resolution. YouTube videos embedded in the results lack volume controls and HD viewing options. And tweets aren't linked properly for clicking through; users are instead taken to the Twitter page for the user in question.
And although the smaller issues are easily overcome or even simply ignored, the larger question looms: Even given the ease of use and fun, visual nature of this search engine, what will drive user adoption and change the Google habit? Granted, getting this "big picture" view of topics is as informative as it is intuitive, but aren't we all used to navigating through pages of links and tabs when we're done playing with a new toy and are ready to find the information we really need and want?