NewsGator, the company behind the popular FeedDemon and NetNewsWire feed readers, just announced that it will shut down the NewsGator Online Reader on August 31, 2009. The company will provide users with instructions on how to migrate to Google Reader. NewsGator's desktop and mobile feed readers already support synchronization with Google Reader. Until today, though, users could choose between syncing with NewsGator or Google Reader. New versions of FeedDemon and NetNewsWire for the Mac will be available today. A new version of NewsGator's iPhone app will also arrive in the App Store soon.

NewsGator Focuses on the Enterprise
This move probably makes a lot of sense for NewsGator, as the company can now focus more on working with its enterprise and government customers. Running an online RSS reader is pretty resource intensive. For the most part, NewsGator was only duplicating Google Reader's features anyway, though it did offer a number of features that Google doesn't yet offer in its online RSS reader.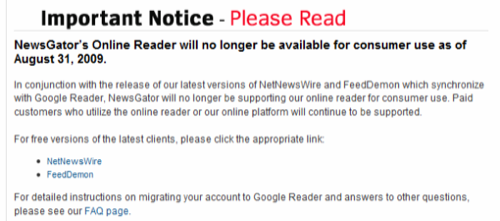 The most important part of the announcement actually comes at the end of the FAQ about the transition. NewsGator argues that its enterprise products have grown at a record pace in the last 18 months. The company also announced that its Social Sites product already has over a million paying users. Under these circumstances, offering a free online news reader probably didn't make any sense for NewsGator anymore.
Free Desktop Readers Will Live On
It's important to note that the company will continue to develop and support its free desktop and mobile readers, though NewsGator Go! for BlackBerry and Windows Mobile will no longer be available for consumers after August 31. NewsGator's browser toolbar and desktop notifier will also be discontinued.