Disclosure: Socialtext is sponsor of the ReadWriteEnterprise channel.
Hot new trends are hard to resist, especially when they open up lucrative new markets. For proof positive, look no further than Socialtext, which today released a Microblogging Appliance independent of the rest of their enterprise collaboration offering.
Long an advocate of the integrated approach to social software, this is the first time Socialtext has unbundled any part of their software. In addition to competing with startups like Yammer and Socialcast, the company aims to use the appliance as a teaser for their complete platform.
Why Now?
In a phone conversation with us, Socialtext co-founder Ross Mayfield outlined two compelling reasons for the shift in strategy when it comes to enterprise microblogging:
Competition with standalone apps: Startups like Yammer and Socialcast has garnered a lot of attention from customers and analysts alike. In the process of due diligence when considering such apps, Mayfield says that companies often have come to Socialtext to make some comparative assessments. But until today, no amount of money could buy you access to Socialtext Signals by itself.
Pilot project: While analysts have decried self-contained microblogging as an unproven sector not easily integrated in to daily workflows, Socialtext sees the appliance as a first step in introducing its software to businesses exploring enterprise 2.0 for the first time.
Unlike the Socialtext freemium option unveiled last month, there is an upfront charge for either a hosted version or an on-site appliance. (Note that when they say Microblogging Appliance, they do not mean on-premise only.) But for $5 per user more a month, businesses have the option to upgrade to Socialtext's wiki/blog Workspaces and Dashboard.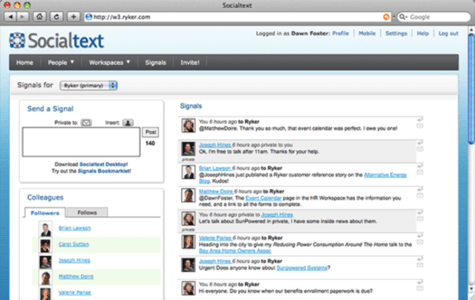 More to Come?
Technically, the Socialtext platform is a series of different apps connected by REST APIs. So in theory at least, there's no reason why they could not break down the entire platform in to its parts, either to be sold separately or in whole according to the customers needs.
Even if it wouldn't be particularly difficult, Socialtext co-founder Ross Mayfield says he doesn't see further fragmentation happening anytime soon. "While further unbundling is an option, what really drives this is which integrated user experiences make sense together.", he told ReadWriteWeb.