After being in beta for a year, Smibs has launched their SaaS business software into full production mode. The initial series of applications, with more planned for the future, include a Web-based CRM called Doorbell, and the Smibs Network, a business networking service.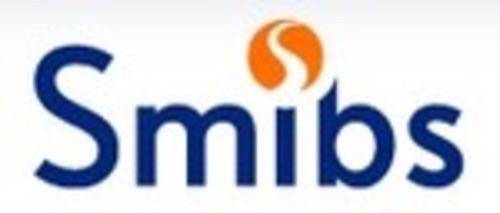 LinkedIn has largely wasted its potential to be anything other than personal promotion, and Salesforce.com CRM focuses almost solely on internal collaboration. While it has a long way to go to truly compete with either, the way that Smibs bridges the gap between public business networking and in-group workflows makes it a serious future contender.

A self-funded startup rivaling both the largest business network and the most popular CRM is a tall claim. But the evidence to back that up is in how its current offering of apps covers the ground of both tools: intimately connecting a social graph with business collaboration.
Doorbell
Doorbell is a SaaS CRM available on a freemium basis. At this point, the simplistic functionality of Doorbell is the weak point of Smibs. While it has a clean, AJAX-y UI, it still lacks much of the specialization and power of Salesforce.com.
The Doorbell feature set is smoother when it comes to basic task management, rather than a focus on contacts and evolving leads. At this point, it's really the bare minimum for enterprise use, and the company is selling primarily to SMBs, creatives, and professional services companies.
You can purchase Doorbell as a standalone CRM, but it really shines in the way it seamlessly integrates with the Smibs Network. Through that integration, it becomes a robust tool for managing the business connections you make and reinforce through the Web.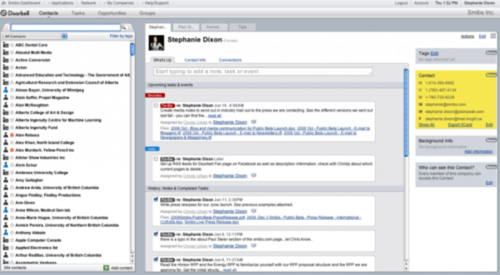 Smibs Network
The Smibs Network works basically the same as LinkedIn, Xing, or other business-focused social networks. It's set up to be a place to broadcast who you are and what you do, as well as hunt for new contacts. Profiles exist for both organizations and individuals, and you can search either by business name or areas of personal expertise.
What makes Smibs different is that if you find anyone you'd like to bring on to your team, either permanently or temporarily, you can easily give them access to your Doorbell. The single Smibs site allows you to transition from networking to collaboration quickly, bypassing the need to move from one site to the other. The only business network I've seen that comes close to this kind of public-private merge are the Xing Enterprise Groups. The difference there is that the Enterprise Groups create a walled networking garden, rather facilitating CRM work.
Even if your enterprise isn't particularly interested in using Doorbell as your main CRM solution, the ability to work with it in conjunction with the Smibs Network makes it a perfect way to manage recruiting, and customers with access to the beta period for Smibs have already been using it as such.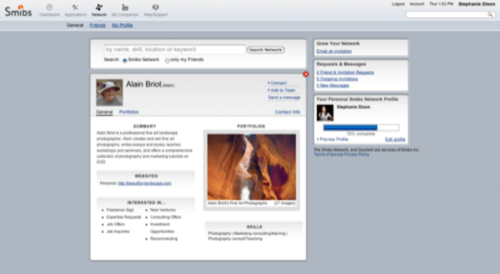 Really A Potential Rival?
There are some serious hurdles that Smibs faces if it wants to become an essential business tool, especially in comparison to the powerhouses of networking and CRM software today. The leading problem is that business users looking for networking will flock to where people are already, which is LinkedIn first and foremost.
Still, not having to wrestle with separate applications is always a draw for pragmatic enterprises. With the headache that even good CRMs can cause and the annoyance some find in having to manage disparate networks, a platform that blends both might be attractive. It also didn't hurt that Smibs founder Peter Urban has outlined a coherent vision for where the company is headed, with new products in the works for the coming year.
There's a long and difficult road ahead if this startup wants to draw a substantial user base away from its rivals. But from where we're sitting, Smibs has a fighting chance.