With some core changes to contacts, Google Apps has dipped a toe in to the enterprise social networking waters. As of today, Apps contacts exhibits shades of Facebook and Twitter by allowing you to find and interact with all the user profiles in your Apps suite.

According to Google, these adjustments where made at the behest of enterprise Apps users. It has also made a user profiles API available to Premier Edition customers, one that allows IT to retrieve and manipulate data about all the people using Apps in a company.
How the New Contacts Work
Previously, contacts within Google Apps functioned just like email: only people you'd previously communicated with or added intentionally appeared. But now, a search will provide profiles from your company's entire address book, acting very similar to the way enterprise social networking platforms treat user profiles.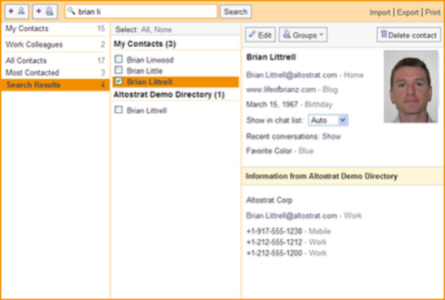 For those who've ponied up for the Premier Edition of Google Apps, a new API will let you call up data pertaining to all the user profiles in your company Apps suite. That's on top of the shared contacts API released in December of 2008.
More Facebook Than Gmail
By letting users search and interact with user profiles regardless of whether they are "contacts" or not, Google Apps has become slightly more like a corporate social network. While it still deigns to use terminology like "address book" instead of a friend and/or subscriber list, it's no longer tied to behaving like email.
Not to say that this is revolutionary for Apps. On the contrary, enterprise users of the suite would naturally demand full access to profiles, since there's no logical reason why you shouldn't have at least theoretical access to the contact information of everyone in your company using the platform.