Plenty of enterprise 2.0 companies have set their sights on replacing SharePoint. But so far, not one has shown the gumption of Box.net, the filesharing and collaboration service which has launched the Box.net vs. SharePoint challenge.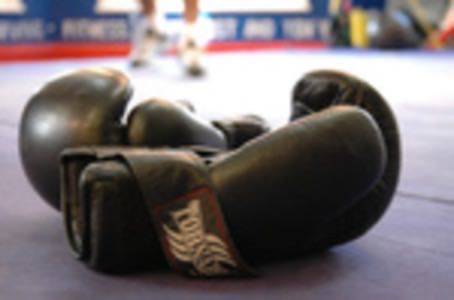 Based on the premise that "sharing should be simple" and implying that SharePoint is anything but, Box.net's campaign is more than a marketing ploy. It's a bold sign of the growing conflict between hungry young startups and Microsoft over who will dominate business collaboration in the years to come.
The Gauntlet is Thrown
So how does the challenge work? Enterprises will sign up for a free, 14-day trial of the Box.net Business Edition. If they're not happy after giving Box a spin, they'll get three months of SharePoint paid for.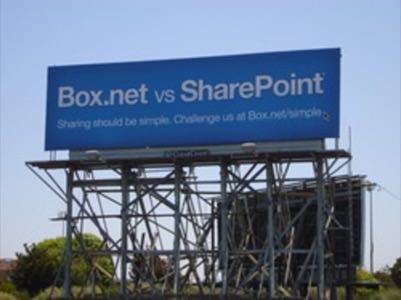 But if they stick around and buy a year's worth of service, they'll get the same three months free on Box.net. Note that in order to get either, users have to perform a predetermined set of tasks during their free trial, so be sure to read the fine print.
Box.net doesn't just feel confident pitting its services against SharePoint. They're doing everything but literally shouting it from the rooftops, having bought a Bay Area billboard alongside Highway 101.
At the recent Enterprise 2.0 Conference, they handed out t-shirts with turds on them declaring Microsoft's software was "SharePoo." Even if you don't sign up for the trial, airing your SharePointBlues on Twitter, Flickr or YouTube might just win you a similar shirt.
More than just Marketing
Billboards and t-shirts might be marketing gimmicks, but the campaign does exemplify a growing schism in enterprise 2.0 over how to deal with the SharePoint-shaped elephant in the room.
Many players have rushed to integrate with the platform in the hopes of bridging the divide between the risk-averse and those intent on seeing enterprise transformed.
Others have taken a more radical approach, drawing a bright line between the old way of working together and the new. To some, the notion of integrating with a system that they see as fundamentally broken is a foolish one, for businesses and vendors alike.
Just which approach will win out in the end, no one can honestly say yet.
Though it's months away still, SharePoint 2010 could be transformative enough to make any previous barbs look silly. But for today at least, the confidence Box.net is showing in its services might just win over some converts.
Photo by mrkalhoon