When the open source convention OSCON decided to move from Portland, Oregon to San Jose last year, the open source citizens of Portland set about developing their very own "conference for developers working with open source technologies and for people interested in learning the open source way". And since Portland is a hub of the open source community, an army of volunteers and organizers were able to put together a three day conference called Open Source Bridge. With its focus on open source citizenship, its innovative track structure for sessions, an all-night hacker lounge and peer-produced conference software, Open Source Bridge was not only a success, but plans are already underway for next year's conference.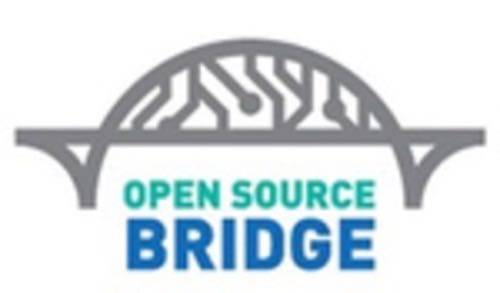 Open Source Citizenship
When Open Source Bridge co-founder Audrey Eschright began to think about organizing this conference, she first took a look at open source citizenship:
"We're planning a conference that will connect developers across projects, across languages, across backgrounds to learn from each other. We want people to experience something beyond "how to use tool X" or "why databases keel over when you do Y" (even though those topics are important, making up our tools and trade, and will be a central part of the conference content). We'd like to share what open source means to us, what it offers, where we struggle, and why we do this day in and day out, even when we're not paid for it.

In order to do that, it seemed important to bridge the kinds of roles we have in open source, user/contributor/owner/institution, getting down to something more fundamental. What else are people who interact in this multi-directional way? Perhaps we're citizens. Not residents–we do more than live here. We are, like citizens of a country, engaged in the practice of an interlocking set of rights and responsibilities."
It seems that there are plenty of good open source citizens in Portland. Organizers formed a non-profit organization and the call went out to find volunteers. Citizens responded immediately and there was even support from the city government. Overall, "thousands of hours went into creating this event, all unpaid. Several people who contributed were new to open source development…and made a huge impact anyway".
The Conference
One of the biggest goals of Open Source Bridge was to bring some interactivity and collaboration to its sessions and allow attendees to engage closely with one another. One way it accomplished this was to set up an innovative "track structure" for its sessions. Sessions were "technology agnostic, based around shared community experiences and focus on the similarities between projects, not the differences" and featured tracks split into five areas: business, chemistry, cooking, culture and hacks. This is a great way to structure conference sessions and did indeed promote interactivity and collaboration.
A big surprise (and a welcome change) at this open source event was the fact that there were over 20 women who either led conference sessions, spoke or played other significant roles, including co-founders Audrey Eschright and Selena Deckelmann. Notable participants include Sarah Sharp of Intel, Maria Webster (a.k.a. Ubergeeke) and Rikki Kite, Associate Publisher of Linux Pro Magazine.
A highlight of the conference was when Portland Mayor Sam Adams opened the second day with a keynote address, vowing the city will one day be a "hub of open source". Adams says, "bottom line: the city government has unnecessarily been closed in proprietary software and has been a laggard in using open source software". Portland wants to join Vancouver, BC as a completely open city.
As the sessions at Open Source Bridge were winding down each day, the fun was just beginning. In a room high atop the Hilton Hotel in downtown Portland sat the 24-hour hacker lounge, a dedicated space for "code sprints, bug bashes, bouncing ideas, starting new projects or just mingling and taking in the vibe". On the last night of the conference there was a special Beer & Blog gathering for attendees and an open source themed taping of local tech podcast sensation Strange Love Live.
Although it might not replace OSCON for some people, it's clear that this conference was a huge success and will continue to grow and find its place among open source enthusiasts. It was exciting to see over 500 attendees from around the world, including a delegation from the Korean Software Industry Association, really connect with each other to advance the open source cause.
The only negative thing we could find was a lack of enough electrical outlets for people's laptops. We have been assured that organizers are working on the problem and that next year's attendees will have plenty of power available. Everyone we spoke with said this was a worthwhile event and will be looking forward to next year's conference. We applaud the efforts of all the organizers, volunteers and open source citizens that made Open Source Bridge possible. Be sure to check out the conference Attendee Wiki for more details and contributed session notes. You can also search the Twitter hashtags #osb09 and #osbridge for a blow-by-blow account of the week's events.