Socialcast, the enterprise communication and collaboration platform oft-compared to Friendfeed, is making its basic service completely free, with no limit on users and administration capabilities.

This news marks a tidal shift in strategy for the company, since previously only a 10-user version was free, and was $1 per user per month after that. As of today, however, Socialcast will divest itself of subscriptions altogether, making a clean break with the model that competitors Present.ly and Yammer have long used.

Real-Time and on Your Desktop
The new release of Socialcast didn't just get a new business model. It's well on its way to becoming a comprehensive and fully-collaborative stream of information for the enterprise, one that goes far beyond mere microblogging.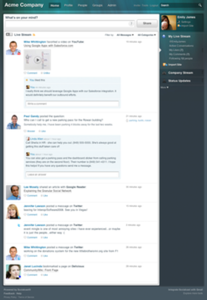 Perhaps most exciting is that Socialcast's stream is now real-time, with only a quarter-second latency in posting. This means that workers can now stay easily updated on the diverse information sources they can follow through the platform.
Also new for the free version are the ability to claim administration rights such as user management and basic site customization, and an Adobe AIR desktop application.
How Free is Free?
Backed by
and with
on its Board, Socialcast will now primarily drive a revenue stream based on a
that adds enhanced security and accompanying professional services.
CEO, Tim Young, told ReadWriteWeb that with the cost per user rapidly approaching zero, SaaS is the certain future for platforms like Socialcast. But there will certainly be large government and enterprise customers who require self-hosting and consulting services.
What this means for you is that Socialcast can offer a free, on-demand service without holding back nearly all the enhanced features in order to entice you to pay a monthly fee.
What This Means for Socialcast
While Socialcast generally lives up to the hype of being more Friendfeed and less Twitter, there's no doubt that many potentially interested companies defaulted to microblogging services like Yammer and Present.ly which had a more graded array of freemium packages to ease in to.
But now, the tables seem to have turned. By offering up all but a handful of features for free, Socialcast's new plan may stack-up much better.