According to a recent Hitwise bit of research, Facebook's users have grown up dramatically over the past year.

That is to say, more than half of all Facebook users are between 25 and 44 years old as opposed to 32 percent just one year ago. The site's marketshare has also grown remarkably over the last month with a nice spike over the weekend the social networking behemoth made vanity URLs available.
In March, we reported on a spike in adoption from older users, writing, "Over the last 60 days, according to data from Inside Facebook, the number of users over 35 doubled, and the fastest growing demographic on Facebook is women over 55. The majority of Facebook users are now over 25."
And between May 2008 and May 2009, 18-24 year-olds as a piece of the Facebook users pie have decreased by nine percentage points while 25-34 year-olds have increased over twelve points and 35-44 year-olds have increased by seven points.

Moreover, Facebook's marketshare of site visits has climbed impressively by 22 percent over the past month: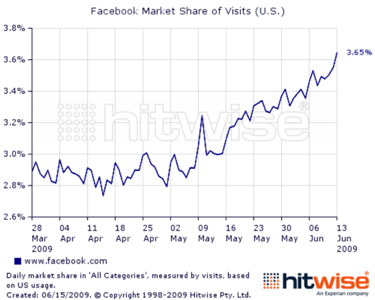 Especially interesting is the marked spike of 2.8 percent between June 12 and June 13, when Facebook's vanity URLs became available.
However, as Bill Tancer pondered in his blog for Hitwise, if Facebook is the new mainstream social net, where are younger users going? We've got a good guess. It starts with a big, capital T and ends in…