Livekick is a startup for the would-be concert-goers among us.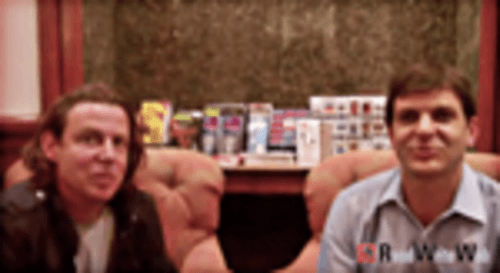 We're busy. We don't have time to troll a half dozen websites for bands we like at venues that are nearby with showtimes that are convenient from ticket outlets that give us a good deal – there are far too many moving parts involved in that equation. As a result, even though we're huge music fans and/or love going out, we rarely get to see good, live music. Fortunately, from now on, Livekick can help us. Read on for a video interview with the founders and a thorough product demo.
Launched by Aviv Eyal (who co-founded Grouper, which rebranded as Crackle and was sold to Sony) and Yarden Tadmor, Livekick has been in a quiet beta phase since fall 2008 as the team developed the platform. We met up with Eyal and Tadmor during Internet Week at Social Media Camp in the Roger Smith Hotel, and they talked about the tech behind and capabilities of their product.
And here's a lengthy product demo for those who prefer to see how the site works in action:
In short, Livekick mashes up geographical data, data from music listening and sharing sites, and data from concert ticket sites, and information and content from many other sources to create a perfect storm of concert-attending efficiency. Pages even have YouTube videos of an artist's live performances, just so the would-be ticket buyer knows exactly what he's getting into. And if your favorite band has broken up, Livekick keeps track of the metadata to recommend band members' current projects, instead.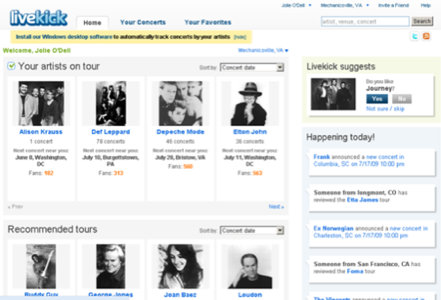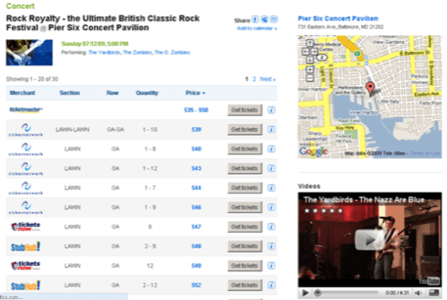 Signup is simple. Importing data from iTunes, Last.fm, and other music sites can take a few minutes, but the huge payoff (not having to remember or enter any band information or preferences) is huge.
Best of all, finding concerts, sharing show dates, and purchasing tickets are all lightning fast processes. Email and Twitter updates are available for those who need to be reminded or notified when they're away from the site.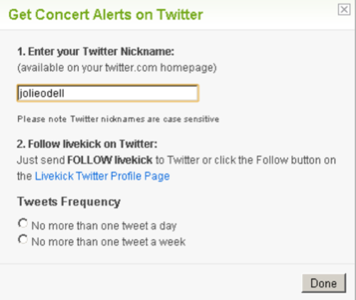 Yarden shared with me that since he, himself, started using Livekick, he's been averaging about two concerts a month. For a busy guy with a startup to think about, this is nothing short of miraculous.
In the right hands, the product will make for money-making widgets for labels and bands and time-saving ones for friends who would like to share and plan events.