For Web users who pay little attention to a site's terms of service (TOS) policies when they sign up for a service, or even realize that they constantly change, the Electronic Frontier Foundation has your back. The San Francisco based non-profit advocacy and legal organization announced that it is launching TOSBack, a terms of service tracker for Facebook, Google, eBay, and other major websites "to help consumers monitor terms of service for the websites they use everyday, and show how the terms change over time".

Terms of service policies dictate how companies doing business on the Internet interact with you and how they will use your personal information and intellectual properties. Earlier this year, Facebook caused quite a stir when it modified its TOS and ended up launching its Facebook Bill of Rights to ease the minds of its worried users. Many of us already track TOS changes for major companies by using modified RSS feeds, but this EFF solution seems like a more reasonable option.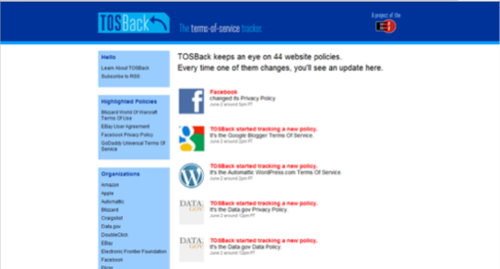 EFF Senior Staff Attorney Fred von Lohmann says, ""Some changes to terms of service are good for consumers, and some are bad…but Internet users are increasingly trusting websites with everything from their photos to their 'friends lists' to their calendar — and sometimes even their medical information. TOSBack will help consumers flag changes in the websites they use every day and trust with their personal information".
We applaud the Electronic Frontier Foundation for providing a tool to keep us aware of these changes. We will certainly give this new product a try and will report on any TOS policy changes that we think are important for you to know about.