By building structure around a glut of data from U.S. Customs, Panjiva has become a clearing house for the information on suppliers that enterprises crave. Now, searching customs data may not be the life of excitement and adventure you envisioned, but Panjiva doesn't just have valuable data for the enterprise.

Launched in 2006 without much fanfare, Panjiva has acquired some traction. With the state of the economy, news orgs like BusinessWeek and The Wall Street Journal have turned to it as a bellwether for the health of global trade.


The Panjiva web interface makes for a fairly rich experience, incorporating refined search parameters for drilling down in to results and visualizations like tag clouds. The core of both the public and enterprise side is built on the data long available through the U.S. Customs Office.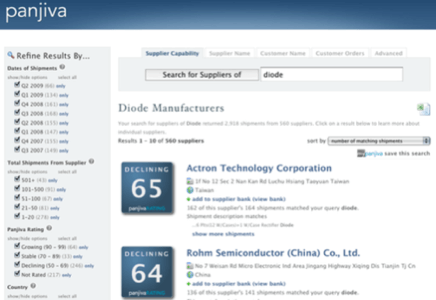 But despite the accessibility of the data, it has always been messy, making serious analysis virtually impossible without the addition of technology from third parties like Panjiva.
CEO Josh Green quickly discovered just how hard it was to research suppliers when asked to do so while working for E Ink, maker of electronic paper for e-book readers like the Kindle, and he teamed up with CTO Jim Psota to fill that void.
Panjiva's private enterprise search focuses on clients such as Home Depot and VF (owner of clothing brands like Nautica and Wrangler), but could potentially be useful for any class of business that has a close relationship with their suppliers. The private version also draws in additional data — like on Chinese manufacturers — that isn't available to the general public, and Panjiva offers an alerts service for you to keep tabs on vital suppliers to your enterprise.