The 3.5 release of ThoughtFarmer, the self-titled "social intranet software," adds the kind of features that fully embody their strategy: incremental changes to encourage collaboration.

ThoughtFarmer has quietly been working to build an intranet that really meets the needs of enterprise, especially designers of all stripes. True to its name, the software combines all the hallmarks of an old school intranet with a comprehensive set of social features, including blogs, wikis, activity streams, and status updates (among others).
Now, a hierarchical intranet with a Microsoft back-end may not be quite as sexy as, say, Jive's social business software. But consider where some of the larger enterprises ThoughtFarmer has served are coming from.
In the case of eHarmony, a 250-person team was using WordPress as an intranet. If the company behind one of the largest dating sites on the web is using that, just imagine what smaller shops might be limping along with. In cases like these, a solution like ThoughtFarmer is a godsend indeed.
There are two standout new additions to the ThoughtFarmer 3.5, DiscussionCapture and a dynamically-generated employee directory.
The first is a step towards solving a common problem in the enterprise: the employee who, no matter how much they are goaded, consistently fails to leave the black hole that is the email inbox, stopping collaboration in its tracks.
By battling with the notoriously thorny Exchange server APIs, DiscussionCapture automatically creates pages from threads in an email distribution list. This turns your emails in to a searchable knowledge base for those who are comfortable in a more social work environment. What's more, distributions lists can be managed from within ThoughtFarmer by anyone, circumventing IT and Exchange altogether.


The story behind DiscussionCapture is indicative of the way ThoughtFarmer thinks.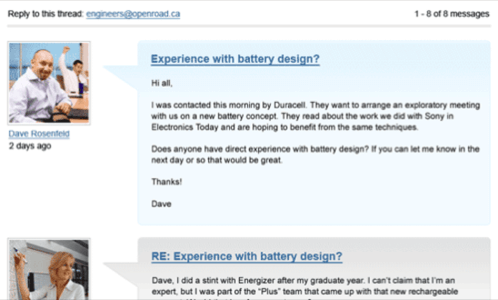 IDEO, a leading design consultancy, asked them specifically for this functionality, and a strategic partnership between the two saw it become a reality. When the makers of a turnkey solution looks to the people actually using their software as chief inspiration for new features, you can feel good about buying that perpetual license.