PBworks (which recently changed its name from PBwiki) has announced a new option for those seeking a hosted collaborative workspace, Project Edition.

On top of the basic free wiki, PBworks will now have five specialized products available. The enhanced project management features of the latest edition is just one reason why PBwork's revamped offerings are making headway in the enterprise.
In addition to the collaborative workspaces (i.e. souped-up WYSIWYG wiki pages) you're likely to be familiar with, Project Edition adds traditional project management features like tasks and milestones. Workspaces can also be linked together in Networks, allowing easier compartmentalization and coordination on a per-project basis.
But an even greater innovation for Project Edition is the combination of the pricing with granular access controls.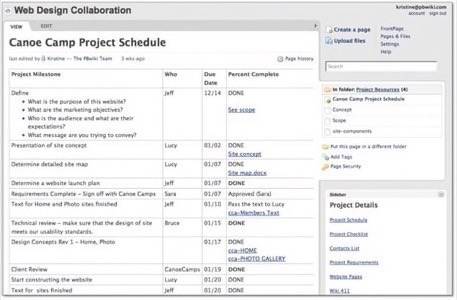 The base price of Project Edition is $20/user/month, but licenses for guests and clients are completely free. Clients can engage directly with relevant projects, allowing them to get status updates, make comments and do design reviews. Contractors or partners can be given accounts in order to collaborate on a limited basis. All guests can view and edit only what workspace managers grant them access to.
For several years, PBworks was a (if not the) leading wiki host on the web. But only a tiny minority of those signed up for a free SaaS wiki are ever converted to paying customers, even with the promise of substantial perks. Thus, by dropping the wiki portion of their brand and rolling out custom tailored editions with enhanced feature sets, PBworks is making a decisive shift towards cutting a bigger slice of the enterprise pie.