Sometimes, all you need is a MySpace profile and a dream. And a shopping cart.

For casual Internet users who are all over the social web but don't have the knowledge, resources, or desire to set up and market full online storefronts, there's PutACart, which democratizes the long tail of e-commerce, allowing users to peddle their wares from a plethora of the most popular social destinations online.
The PutACart setup is simple. Pick the product type (shipped, affiliate, download, or subscription). Set up the product info, including text, link(s), and pics. Choose a site to display it on, and cut and paste the embed codes. There are step-by-step instructions and screenshots for how to place the codes in all kinds of social profiles, including Facebook. Users can begin shopping immediately. Take a look at the screencast demo, if you like.
Here's what the carts look like on Facebook, MySpace, and WordPress, respectively: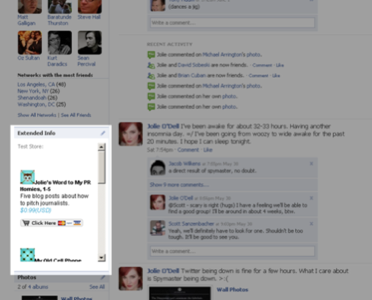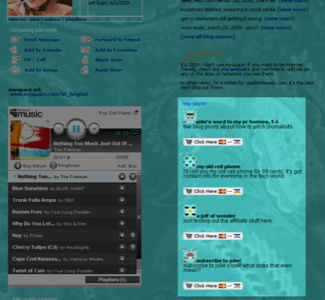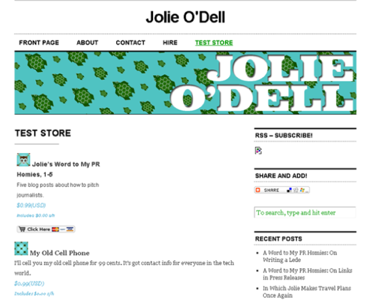 Since this is for casual social-web users, Paypal is the only payment method for both buyers and sellers. And if a user makes changes to certain parts of his product list or account, he'll also need to update the embed codes on his social sites.
Mostly, though, it's a great idea with a kind of bad interface. Here's a look at my web-based store. Unfortunately, I can't customize the look and feel of this page, and I have no options for customizing my social web shopping cards other than toggling between thumbnail and extended product views. I have no control over how it looks, and social web users are very big on customizable GUIs. Especially for something that will be the commercial side of their personal brand, users need to be able to choose images, colors, typefaces, and layouts. They should probably also have some level of access to style the page/widget as they like. On this site, I didn't even have the option to crop my thumbnail, which came out distorted because the creators didn't give me any dimensions, either.
Also, the message sent out after a Paypal purchase is confirmed should without question be customizable. I, Jolie O'Dell, would never write something like, "We can't tell how much cooler you are for having bought something from us. Your friends will be jealous. Thank you!" And I'm sure a great many other vendors wouldn't, either. If you're sending out a message on my behalf to people in my social graph, it's imperative that I have control of what the message says.
Customization issues aside, it's a fantastic service for social web peeps who want to throw a few marketable products into the digital universe without committing to an online store, and we look forward to seeing what the PutACart team does in the future.
Also, this is a test store, so please don't try to buy anything I've posted! Do you really think I'd sell out all my tech scene bros for $0.99? That's my retirement plan.