One of the web trends we're noticing this year is more location-based mobile phone applications – i.e. apps that know where you and/or your friends are and utilize that data in some way. Some of this activity was fueled by Google's entrance into the market as a serious player, in February when Google Latitude launched. Latitude allows you to share location-based information with friends. We've also covered a number of innovative location-based startups, including Bliin, Toai, Parallel Kingdom, Radar, Visible Past (our coverage) and Wikitude (our coverage).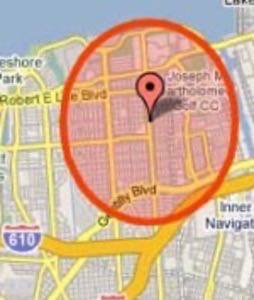 Perhaps the pick of the startup bunch at this point is Brightkite, which we named as our pick for Most Promising Company for 2009 last December and included in our Top 10 Mobile Web Apps of 2008. Brightkite is a device agnostic, SMS-based application that lets you "check in" at various locations in the real world and see who else is there, has been there, and who is nearby.
As we're nearing the halfway mark of 2009, we decided to find out what location-based applications the ReadWriteWeb community is using. We asked for feedback on our Twitter account @rww, (which we recommend you follow, to participate in upcoming surveys and get the latest tidbits about web technology).
Brightkite and Google Maps / Earth got the most votes. Let us know your favorite app in the comments.
Favorite Location-Based Apps of RWW Readers
Note: we haven't linked the companies, but please use your favorite search engine if something catches your eye.
@CleverClogs @Glympse lets you share your dynamic GPS map location with someone for a preset period of time.
@petercowan google earth. hands down. no contest.
@OlafLewitz Google Maps, because I find nearly everything I need.
@dvint 1am loving sky map on the G1 – see the latest version, it is now a google app & google maps
@sherrymain Google latitude b/c of network effect, others on it. But I have an iPhone, so I can only track/update online
@selviano www.buzzd.com, a mobile LBS app that has covered several times. They launched a new WWW portal yesterday
@iamrehman My Local Traffic guide for The southern Swedish Province Skane .. The app is called skanetrafiken.
@Lambday Google Street View xD
@dingman google maps w/ GPS routes, direction to X from current location, MOST USED APP EVER by me
@thillerson Another vote for Brightkite for sweet useful mobile apps
@Judd6149 Brightkite. It is simple to use (from my iPhone) . When it is used to is max capabilities it is quite engaging and useful
@mvarroyoI am a big fan of loopt. the facebook & twitter integration was one reason i liked it so much. it just works now, so I stayed with it
@dc2fla favorite location-based app – Google Earth, hands down. Intuitive, easy to use for mapping, research, virtual wandering, discovery
@theReviewGuy aroundme iPhone app becauz it's dead simple with 2 clocks to destination
@pixelpooch iWant has been pretty good to me with all the travel I do makes it easy to find whats near by also provides yelp reviews on restaurants
@richardram Google Earth combined with Earthbridge, Voda 3G and a Dell Mini 9 with the GPS turned on, a real-time, virtual tour awaits.
@evakennedy76 iMapMy by MapMyFitness. I also use mapmyrun.com pretty regularly.
@grahamclarke: Google Earth – rich data layers, easy to use, combination of satellite imagery and user submitted photos, cool
@jaredwsmith: For me it's Brightkite: The concept of "placestreams" is fascinating and incredibly useful. Brightkite can, if the data's populated for a location, give me great context when talking about a place — I show someone the stream.
@KindSoles gmail's weather theme. My computer sits infront of a window so it's cool to see it change with the weather on a day to day basis.
@drnormal shizzow.com is social, has a mobile web interface, quick search for locations and of course, Twitter integration (a must have)…
@dekkerd @brightkite. multiple easy ways to update, shows what's happening around me and my friends. plays nice with other services
@ajleon No question right now it's @brightkite, GREAT community, Gmap Integration, easy to post pics and make friends, great UI
@ITSinsider I like Brightkite. It's easy and I like the Twitter integration. I "check in" all the time so the kids know where I am.
@melleez TwitIQ easy peasy lots less work
@josh909 Brightkite due to twitter integration, and good GUI

@Socialbees prob yelp iphone app b/c it's so often saved me from potentially terrible dining exp & turned me on to great places while traveling.
@missinglink browser only, none (maybe brightkite), but mobile,
google maps
is the best one I've seen,
loopt
and
brightkite
are close for social