Social interaction online is not very sophisticated. The news feed model of conversation has taken over the social web, from Facebook to Twitter to FriendFeed to MySpace, but by itself it doesn't serve us very well.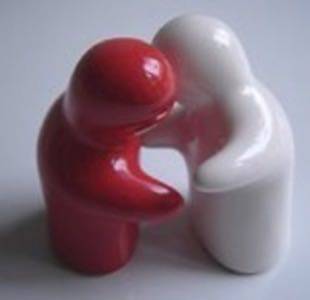 That's where the creation of groups of sources comes in. Various services have different ways for users to separate their "friends" into different groups, viewable by topic, category or type of connection. Facebook is making changes today to make it easier to break your Facebook Newsfeed into groups. That's going to be very important. The best Twitter applications offer group functionality that the site itself doesn't. MySpace offers no such feature, yet. The Facebook news prompted us to try to articulate the value of group creation online. By better understanding the value that groups can deliver, we can better strategize our creation of groups.
First we'll discuss four ways that small groups separated from a full river of news can help you use the social web more effectively. Then, for context, we'll briefly contrast this with the value of the full stream of information. Using both together is more useful than merely limiting the full stream to a manageably small group of sources on a given topic or of a certain priority.
Forgive me if this is all obvious to you; I know it's not to everyone. Even if it is, I think there's value in discussing fundamental qualities of emerging methods of communicating. The assumption in discussing these values is that you're an ambitious knowledge worker. If that's not the case then this logic may or may not apply.
The Value of Groups
Prioritization
Pulling high-priority sources out of the full stream and putting them in a special place enables you to catch more of the high-value information those sources publish. Why lose valuable messages in the whole sea of marginally valuable information that we all have access to? High value sources don't always publish high value information, but the increased likelihood of their doing so warrants putting them in a special place so that the unusually high signal-to-noise ratio they offer is maintained.
Below: I follow thousands of people on FriendFeed but have about 100 people who often discover or make news early in their own group.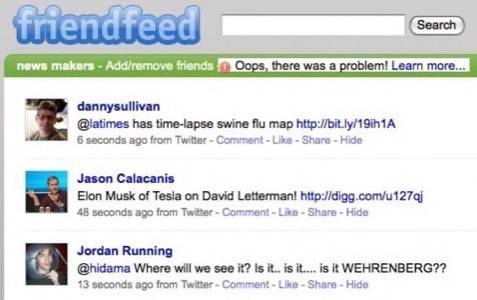 Context
Different words and links have different meanings in different contexts. When subscribing to a large set of sources it's sometimes easy to forget who or what certain sources are when their content comes barreling down a full stream of information. Placing sources into contextual groups helps put messages in context, adding meaning and offering insight into the significance of some content.
Right: I've got a list of 300 tech industry analysts on Twitter pulled into a separate group in Tweetdeck. It's good to know that when I read these messages, they are coming from professional analysts.
Intimacy
We've all got far more connections online than it's realistic to maintain closely. You may be familiar with the concept of the Dunbar number. Researcher Robin Dunbar argues that 100 to 150 is the approximate natural group size in which everyone can really know everyone else.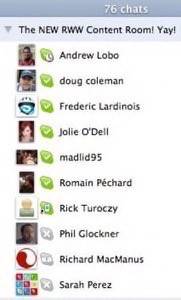 Serious users of social media often maintain far, far more connections than that, though. What can you do? Strategic creation of groups facilitates social contact disproportionately frequently relative to contact with the entire list of our social connections. That disproportionately frequent contact lends itself well to greater intimacy.
Left: The ReadWriteWeb writers' chat, an invaluable resource for us in a world swimming with social connections.
Speed
Some sources of information are more important to be up-to-the-minute with than others. Strategic creation of time-sensitive groups allows you to have those groups alone delivered in a way that fits their time-sensitive nature. You don't want to be interrupted by updates from every source of information you have any interest in – but some sources are worth being interrupted by.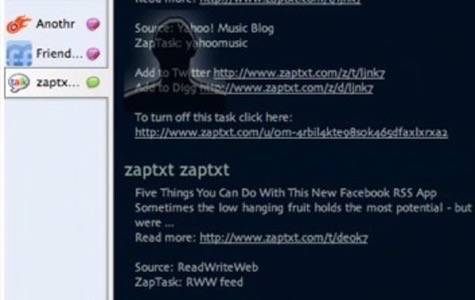 Right: High-priority RSS feeds delivered by IM.
The Value of the Full Stream
Many people are tempted to solve information overload by cutting back on the number of connections and subscriptions they are signed up for online. We argue that this is a mistake; group creation can help capture some of the same benefits of cut-back without incurring the loss of benefits felt by restricting a well-populated stream of information.
Serendipitous Discovery
Do you cancel your cable TV subscription just because you end up not watching most of the shows that are on at a given time? (Maybe with Hulu you do now.) Probably not. Channel surfing is a way to discover new things.
So too with the web; it's better to have too many options than not enough. Subscribing to a source of information substantially increases the likelihood that you'll see something good from that source.
Just don't worry about reading everything. Scan what you can and let fate bring you value from a bulk of undifferentiated information. Problem solved.
Weak Connections
All of us have some social connections that are stronger than others. There's value in those weak connections, too. Welcoming people into your full stream of social information is how weak connections are built and maintained.
Reciprocity
Some people say that social media makes almost everyone famous, at least to a small group of people. One definition of fame is a circumstance where the number of people who care about what you're doing is more than you are capable of paying attention to yourself. Online, though, we can all pay a little passing attention to the people who are paying attention to us. People appreciate RSS subscribers; they like friends on Facebook and Twitter. If someone follows you, it only makes sense to follow them back. (I need to follow my own advice better on Twitter.)
If a person isn't terribly important to you, just don't include them in a high-priority group. Interact with them when you get the chance. They'll appreciate the reciprocal connection, though
That's one take on the strategic value of groups and the full stream of information. What are your thoughts on this topic? Have you come up with any other super-useful ways to build, manage, or find value in groups online? We'd love to hear about it!

Title photo: Your Days – December test Group : 31 Décembre 2006 by Nawal_ CC on Flickr