Last night at the offices of blogging software company Six Apart, engineers and social media specialists from a number of companies large and small met to discuss proposed standards for the future of "activity streams" – the system of displaying recent activities of your friends online. Think Facebook Newsfeed, the basic format of FriendFeed, or the kinds of update chronicles we're seeing now on almost every social network around the web.
Who was in the room? People from Google, MySpace, Facebook, Yahoo!, Nokia, Comcast and a variety of forward looking small startup companies. Thanks to the magic of mobile streaming video, you can be a virtual fly on the wall of this important meeting. Nokia's Ian Kennedy captured the conversation on his phone using Kyte.com and posted it online.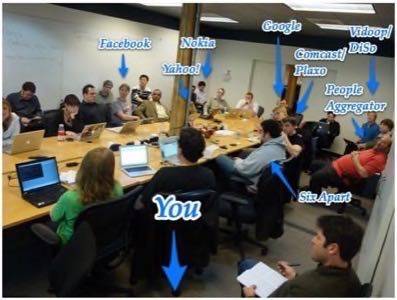 What are activity streams all about? People are taking actions and publishing content on a wide variety of websites these days; pulling all that data together, with a variety of different permission levels for viewing and different types of data, is much easier said than done. Just like a standard size of railroad track helped the trains get across the US like they had never done before (thus opening a new era of commerce and communication) so to do all these social media signals need some common format standards to travel from one website to another. Thought leader Chris Messina explains it all quite succinctly in this video from a related meeting over the holidays.
For a detailed summary of last night's meeting on this topic and some good background links, see Comcast's John McCrea's liveblogging of the session.
The hot debates were how to handle media files in activity feed streams and some tension between the big, more proprietary social networks like Facebook and the small, radically open projects like DiSo, the Distributed Social Networking Project.
Any disagreement aside, though, we find it pretty remarkable that all these heavy hitters are sitting at the same table, along with a variety of small startups, to talk about the future of online community and conversation in the form of activity streams. Activity streams are already a big deal, but if these conversations can be fruitful, the results will be as big as the point in history when customers of different email providers became able to email each other or different telephone company customers became able to call each others' phones.
Unlike those historic transformations, though, much of the planning for this one is being done out in the open. Not just through open public meetings like last night's, but thanks to live mobile video, live blogging with comments and microblogging technologies, this conversation can include the participation of anyone in the world.