We just pointed out Audiolizer as one of the three music services you should try next year, and thanks to a slew of new features the developers implemented this week, we think it has become an even more compelling service. At its core, Audiolizer is similar to a lot of other online music services that let you stream music for free, but now, you can also import your iTunes library to Audiolizer and take your own music with you anywhere you go.

iTunes to Go – Based on YouTube
After signing up for Audiolizer, you only have to export your iTunes library and upload it to the service. We tried this out with a relatively small, 1000 song library, and Audiolizer was able to import almost all of them. Unlike Lala, however, which offers a similar service, Audiolizer does not upload and store any of your songs that are missing from its database.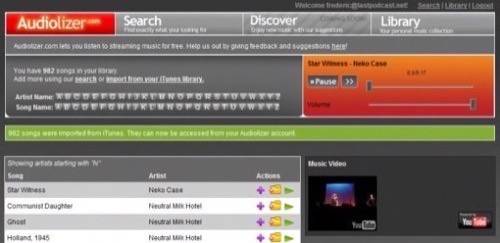 This, however, is typically not a major problem, as Audiolizer is able to draw upon a very large database of songs. While Audiolizer bills itself as a streaming music service, it actually gets its music (and accompanying videos) from YouTube. For some reason, however, Audiolizer downplays this reliance on Google's popular video sharing site and the videos are not even linked to their original YouTube pages and only appear in a very small window.
One feature we would still like to see is the ability to share your playlists with friends. Audiolizer is also still working on a music suggestion feature, which should be available shortly. Even without these, however, Audiolizer is definitely a music service worth trying.