The cyn.in desktop client from a company called Cynapse is a new application that brings microblogging to the corporate desktop. Powered by Adobe AIR, the client is intended to improve collaboration between teams through its real-time "Activity Stream" of events which makes communication quick and easy.
If you're thinking cyn.in's desktop client is just another Twitter clone for the enterprise, think again. The software is designed to integrate with the company's group collaboration suite which includes wikis, blogs, and file repositories. When an item on one of those sites is updated, everyone is alerted through the desktop client. These aren't personal tweets – they're notifications.
What's even better is that you can click on the notification in the Activity Stream to see all the relevant details. If the item was an image, for example, you can preview it or download the original. For blog posts and wiki pages, you can click to read the item that was updated. Plus, you can download any files that have been added straight from the Activity Stream to your desktop.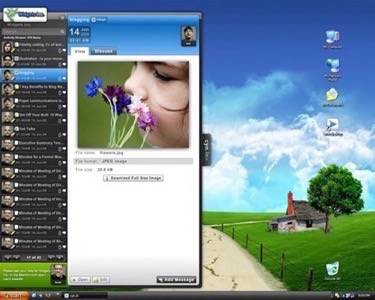 However, the cyn.in desktop client isn't just about automated notifications – it allows for those personal updates, too. But this is the enterprise, mind you, so we're not calling them "tweets" here – they are "status updates" instead. Guided by the prompt "What are you doing?" anyone can quickly set their status update which is then sent into the Activity Stream to update everyone else.
Taking a page from Jaiku's book, the client also includes a threaded discussions feature. Any item in the stream can be commented on whether it's an automated update or a personal status update. The replies can be viewed in a pop-up sidebar to the right of the original Activity Stream, just as with photos, wikis, and blog updates. Like FriendFeed, when someone comments on an item, that item bubbles up to the top so everyone is immediately alerted.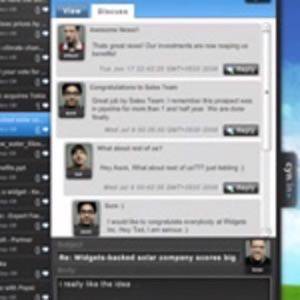 As any Twitter user could tell you, no microblogging product would be complete without search, and cyn.in is no exception. When you need to find something that had been posted before and has since fallen off the page, you can enter in a query straight into the desktop client itself. The results returned are ranked for you according to the percentage match and you can scroll through them just as you can with the Activity Stream.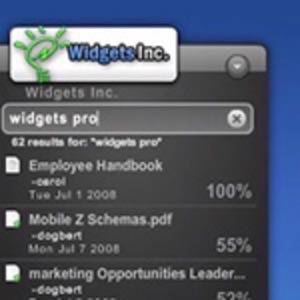 The cyn.in client is beautiful implementation of how microblogging could (and perhaps should) work for businesses, but it's the client's integration with the cyn.in team collaboration suite that makes it so worthwhile. Of course, the decision to move away from your company's current collaboration suite is not one to be made lightly, so you should review the suite's features before deciding if it's right for you.
Other enterprise microblogging clients include Yammer, Present.ly, and Status, but none offer an integrated collaboration suite, too. Cyn.in is open source, but it can also be purchased as a hosted service or as an enterprise appliance.