UserVoice is a little startup that offers a customer support service for any website and allows users to give votes to their favorite suggestions. At first glance it looks like Digg for customer feedback. Spend a little time on the site, though, and you'll see there's a whole lot more going on.

UserVoice is one of the most exciting things we've seen on the web for some time – the User Experience is fabulous. We keep getting excited about it, so we decided to write a post about why we love it so much. Maybe you'll fall in love with it too, or maybe the things we love about UserVoice will help you make other applications more lovable in some of the same ways.
Getting to Know UserVoice
The best way to get a feel for UserVoice is to use it. Many of its best qualities are immediately evident. We took 5 minutes, maybe less, and set up a reader feedback forum using the service on this page. – You can also get to it by clicking on the handy little "feedback" tab the system put on the right hand side of your screen.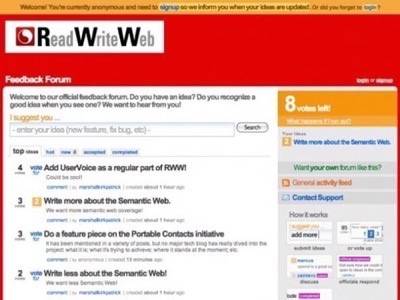 UserVoice is lead by Marcus Nelson and Richard White, a veteran of YCombinator funded online calendar service Kiko.com. Kiko was a company with a great interface but whose market share was allegedly demolished by the introduction of Google Calendar, and White was in charge of that great interface. The interface for UserVoice is similarly inspired.
According to White, the idea for UserVoice came from a 2005 article by developer-guru Joel Spolsky about giving your programmers a finite number of votes to allocate in order to prioritize software development opportunities. That's what White told Spolsky, at least, in a fun interview he did on Spolsky's and Jeff Atwood's excellent podcast Stack Overflow last month.
UserVoice is now on a roll. The company reports that it powers customer suggestions for more than 7000 organizations, from giant companies like Sun Microsystems and Nokia to tiny bleeding edge startups like 12Seconds.tv and Alert Thingy. This week the company began offering enterprise level subscriptions to its service.
Why are so many people excited about UserVoice? We can't speak for others, but these are the reasons we keep thinking about it. We've also got a few concerns about the system and those are discussed below as well.
Why We Love It
Design
UserVoice is really graceful, the interface is a beautiful mix of feature richness and simplicity. The use of lightboxes, when a little pop-up window appears and the rest of the page darkens, is really well done.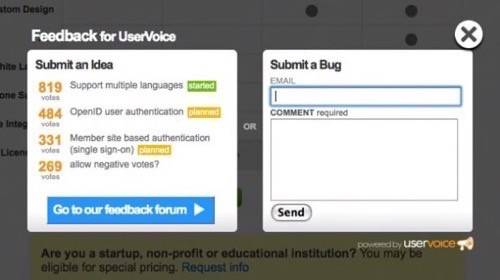 The site makes great use of colors and fonts. Nice big icons are easy to push for common commands like closing a lightbox window.
Creating a user feedback forum for your community is really easy to do. Customization happens just by clicking on the elements you want to change.
Ease of Use
For visitors, it's easy to immediately start using a UserVoice forum. Anonymous users can contribute. When you make a suggestion the search to see if it's a duplicate is fast and graceful.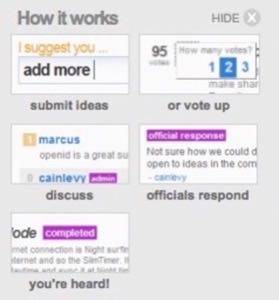 Information architecture is intuitive; the site is a pleasure to use. Forum owners can even prepopulate their forums by batch upload of topics by CSV!
We did experience some trouble with account creation but that may have been an issue with our unrelated account management browser plug-ins. When we did run into problems, the error pages were not well crafted, though.
Smarts
This is a system that fills a clear need. It's a need that countless other people have tried to fill, but the UserVoice team waded bravely into the market with fresh ideas and contemporary design sensibility and the results are awesome.
The management of information is really smart. If you spend some time looking at the display options, you'll see that they are quite thought provoking.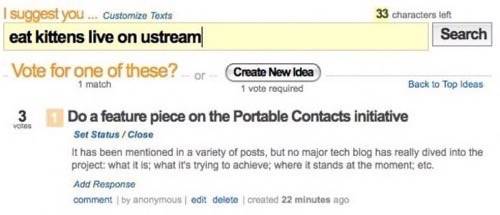 The fundamental premise that people will make more meaningful decisions about prioritization if prioritization is a finite resource is a very interesting one.
Nothing is perfect and we see some warts on UserVoice as well. So far our activities on one forum and on another aren't reflected on the same profile pages, though they are in our user RSS feeds.
Data portability doesn't exist, beyond RSS feeds, unless you're a subscriber to the service. Starting at $289 per month means that many small organizations might be priced out of being able to access their own user data, but UserVoice says to get in touch with them if you're a small shop. There's something that strikes us as a little funky about that, but we can see how it might work out well too.
We used to say that similar forum service Satisfaction was one of the most important examples of good User Experience we knew of. (See Garrett Dimon's excellent post on that.) Right now, though, we're more excited about UserVoice than we are about almost anything else we've seen lately.
Check it out in action and let us know how we can serve you better here at ReadWriteWeb on our UserVoice page.