At a time when the online world is continually seen as a more trusted source of news, mainstream media outlets find themselves forced into the position of becoming more and more open to keep their readers coming back. Removing "paid subscription" requirements that prevented everyday users from accessing content was one of the first cracks in the walled gardens. Opening APIs to other developers has been gaining favor. And now, another trend is coming to light: incorporating third-party content to supplement the original content the sites are offering. Today, the Gray Lady joined those ranks as the The New York Times launched Times Extra, a view of its front page supplemented with content from other news sources and blogs.

The third-party content will be gathered and ranked by Blogrunner, a news aggregator purchased by The Times Company in 2005. Up to eight supporting articles will be accessible – users may have to scroll to see all of them – from each front page article.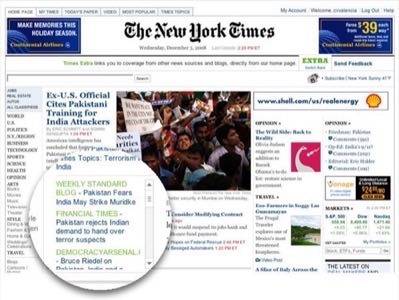 Now, this may seem like a relatively insignificant step for people who live and breathe the Web every day. But for traditional media companies, this sharing of column inches with other publications is not only difficult, it's something they have feared (emphasis is mine):
"The days when content sites were afraid to link to other sites are over," said Marc Frons, chief technology officer for digital operations for The New York Times Company.
So it comes as little surprise that NYT is dipping its toe in the water rather cautiously. Rather than replacing the default front page, Times Extra will serve as an additional version of the NYT front page that users can activate by clicking a link. However, that version only remains active for 24 hours, at which point the user will have to activate the Times Extra front page, again.
Whatever the case, this is a step in the right direction. A small step, but a good step nonetheless. Hopefully, the next move to be open will involve NYT sharing the metrics about how many users opt to use Times Extra and – given the options – where they choose to go for their news.
Disclosure: ReadWriteWeb has an existing syndication arrangement with The New York Times