Microsoft announced Windows Live Profiles today, which takes some lessons from social networking sites and FriendFeed. The new profile page provides a central hub for all your online activities on Windows Live. More interestingly, your profile can also aggregate updates from other services, such as your Twitter account, your blog feed, reviews from Yelp, or photos you have posted on Flickr. You can also feed any standard RSS stream into your profile. While Microsoft doesn't state this explicitly, these new profiles really tie all of the new and old Live Services together into a social networking site.

Privacy
You can choose the amount of personal information you want to display in your profile and Microsoft gives you very granular control over what parts of your profile you want to share with others. You can, for example, choose to share your last name and location only with friends, but make information about your relationship status and hometown public. You can also choose to make some items only available to a small sub-set of your friends.
Favorites
Live Profiles also allows you to create an annotated list of favorite books, movies, and music. One of the nice features here is that Microsoft matches your text entry with images from its Zune catalog or Amazon's book store, and links to both stores directly, which gives this feature more depth than just a simple list of favorite things in Facebook or other social networking sites.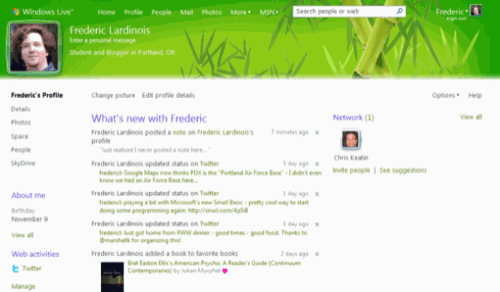 A Little Bit of Facebook, Twitter, and FriendFeed
Overall, it seems that Live Profiles and the new Windows Live Homepage will tie Microsoft's Live Services together into a very comprehensive social network. While it doesn't have widgets that let you poke your friends, it does have a broad set of applications like Photos,Spaces, Contacts, Groups, Calendar, and Events that can all be integrated into your Live Profile. You can also post Twitter-like messages (Microsoft calls them 'notes') to your profile that will then appear in your friends' accounts as well.
While Microsoft isn't directly marketing it as such, Windows Live is, in reality a formidable challenge to other social networks.