Yahoo today announced that it is bucket testing a new design of its front page. The new design was built on top of the latest version of Yahoo's UI Library, which, according to Yahoo, will accelerate performance and give third-party developers the ability to easily create applications for the new front page. It is not clear when this new design will become widely available, but for now, it is only available to a random subset of Yahoo's users.

Yahoo has a history of slowly but surely introducing new web technologies into its homepage. Back in May 2006, we covered an early beta of a new Ajax-powered design for yahoo.com. The emphasis back then was on personalization, news content and community – as we noted in 2006, it was a definite move away from the 90's 'everything under the sun' portal. That design went live July '06. Then in May '07 we covered the re-design of the My Yahoo! property, noting then that over time My Yahoo! (a personalized homepage) and the yahoo.com frontpage would likely merge.
Third-Party Services, More Customization
Today's announcement is mostly geared towards developers, but judging from an earlier post on Yahoo's official blog in September, it is clear that Yahoo will provide its users with the ability to customize the home page to a far greater degree than is currently possible – perhaps in line with the 2007 goal to bring it closer to the functionality of My Yahoo!.
Yahoo's overall goal for the yahoo.com redesign is to give mainstream users a one-stop home page that allows for checking multiple email accounts and accessing personalized applications, while still keeping the look and feel of the old, familiar front page.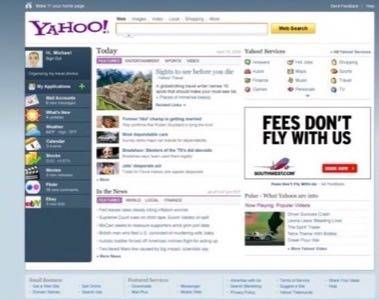 The new front page is clearly part of Yahoo's overall goal of opening up its services. At the same time, it also looks somewhat similar to AOL's latest redesign of its its portal. AOL's new front page also features a customizable sidebar and lets users access third-party services like Twitter, Gmail, and Facebook.
What About My.Yahoo.com?
Of course, with My Yahoo, Yahoo already has a highly customizable portal solution. It is not clear if the front page redesign will also be extended to My Yahoo, but the screenshots of the new home page we have seen so far do not feature a link to My Yahoo anymore. This leads us to believe that Yahoo might be slowly abandoning that service in favor of the redesigned front page.
Update: RWW editor Richard MacManus added some further detail to the post, based on our 2006-07 coverage.