The media world is changing and its jobs are changing too. The rise of the blogger is an often-told story, but are the lucky few bloggers who do it for a living well paid? We did a survey to find out.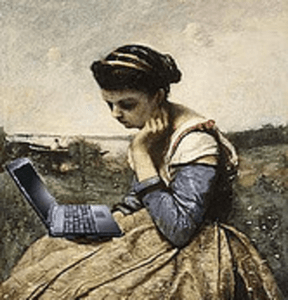 We asked 20 top-tier tech bloggers and social media consultants to tell us how much they get paid, by the post, by the hour or by the month – however their rates are set. Half of them told us, on the condition that we wouldn't disclose who they were or where they worked.
The end result is an anecdotal overview of what some of the top tech bloggers and social media consultants are making. These aren't the founders of big blogs, these are their employees and people who get work writing, doing trainings or consulting for tech companies.
There are a handful of people in tech blogging that make even more than this but the vast majority of people who get paid to blog get paid far less. To be honest we have no idea what it's like outside the Web 2.0 world. (Honestly, is it raining?) We hope that no one will be too angry with us if these numbers lead their employees to feel newly shortchanged and protest. These folks are at the top of their field.
Our methodology was to email people we trust to be honest and who trust us to keep their identities secret, and ask them to post anonymously their rates and the rates they can confirm of co-workers or employees they've overseen within the last year. We realized after performing the survey that we should have asked our respondents whether the current US economic downturn was impacting their rates but to be honest, it didn't occur to us to ask. Maybe that tells you something, too.
We were told pay rates for per-post blogging jobs, full-time blog and social media jobs and for hourly consulting.
Payment Per Blog Post
Most people who are paid to blog are paid per post. What kinds of rates are our respondents seeing? The low end of the scale was $10 per post for very short posts. Almost everyone else said they were paid $25 per post. One person said they were paid $80 per post! One respondent said they were paid $200 per item of long-form writing; bloggers often do other kinds of writing as well.
How does this work out long term? Based on our experience working for many different blogs, we believe that most per-post blogging gigs assume you'll write an average of 3 blog posts in 4 hours. It often takes longer than that to write 3 posts but ambitious bloggers, like the ones we surveyed, know that at this stage you put in extra unpaid hours just to get ahead.
Let's say these people are half-time pro-bloggers making $25 per post, writing 3 posts per day. That's $75 per half-day, a little less than $20 per hour, about $1500 to $1750 per month for half time work. Take two of those jobs at once, do it for a year, and you'll make about $40k. Everyone's got different arrangements, though, so it's hard to take these kinds of annual projections too seriously.
The world is full of people who would be insanely jealous of people who make $40k a year blogging, if it was widely known that you could do that for a living. The biggest rewards aren't the money, though, but the thrill of writing and the ability to dedicate time to the subject you love.
The truth is, very few people are able to get jobs like this. A small number of those who are so lucky take the next step, financially, and move into a full time position with a blog or go in-house doing social media work at a marketing agency or software company.
The Wages of the In-house/Full-Time Blogger
Career minded bloggers coming up through the ranks of the per-post writers sometimes land full time jobs writing, managing other part time bloggers and performing other social media activities like events planning, promotion, etc. Sometimes this work is done as an employee, sometimes as an extended "consulting" relationship. Some of them get work at blogs, others do similar work for marketing firms and software companies. The founders of the big tech blogs now spend most of their time running the businesses they started. These second-in-command type social media positions have a wide range of pay rates.
Our respondents reported annual pay rates ranging from $45k and $55k with benefits (!) up to $70k, $80k and $90k with bonuses. We're tempted to say, based on the anonymously submitted but descriptive replies we got, that the closer to pure journalism our respondents were doing the lower their wages were. That's not always the case, but social media management and working for marketing firms were clear indicators of higher end pay rates. That makes sense.
Based on our experience and conversations in the industry, we can say that all of the people doing this work full time are putting in at least 50 to 60 hour work weeks, often longer. That means most are making the equivalent of $20 to $35 dollars per hour. One factor not taken into consideration here is equity, the full time bloggers and in-house social media pros who are working for startups are hoping to get a nice payday in the unlikely event that their company is acquired.
There are certainly a handful of full time bloggers making six figures, as well. Robert Scoble famously noted that even after everything he did to humanize Microsoft, they never paid him $100k annually, so we presume he's making more than that at Fast Company. He's barely a blogger, but Walt Mossberg is rumored to be paid $1 million per year. It's safe to assume that some in the upper echelon of traditional media reporters now blogging for mainstream press are making more than anyone we surveyed as well.
Consulting – The Big Money
Social media consultants, expert practitioners with multiple years of success in the kinds of positions discussed above and in some cases in traditional marketing jobs, are the ones making the most money.
No one we surveyed named an hourly consulting rate below $150 per hour. $300 per hour was the most common rate named. Some listed monthly rates of $2k to $4k per engagement, which we assume probably means 20 to 40 hours per month.
Social media (or in many cases Search Engine Optimization) consulting is probably making a fair number of people six figures. What are these people doing? They are advising companies on how to set up and run blogs, how to reach out to and relate to bloggers, how to use Twitter (seriously) and how to make advanced use of RSS. The SEO work is probably the most technical, but degrees of technical challenge are all relative. A lot of this work is about communication skills.
It's a new world online and people with experience succeeding in it are widely sought-after by businesses wanting to catch up fast. There's a nearly bottomless need for and a strong demand for high-quality social media consulting – the big challenge is bridging the gap between living a Web 2.0 life and reaching out effectively to people.
We believe there are a fair number of snake-oil salespeople in the social media consulting field as well, but we didn't survey any of those people.
Conclusion – This Part of the Economy Has Been Strong, if Small, So Far
We don't want to claim that there are a lot of people making the kind of money discussed above for blogging or consulting. It's still a very small sector. Between advertising and venture capital, revenues in this sector can't be considered secure during a time of economic down turn.
There are far more people working in social media industries making less money than the people discussed above and the vast majority of participants don't make any money at all in this economy. Making money isn't really the point for most people, but there is an economy around social media and so some people are making money. We believe that this informal survey shows how much money some of the top people in the sector are making. Does this sound crazy to you? Compared to other professions does it seem like too little money? Far too much? Let us know what you think in comments below.
Illustration titled "Blogging Au Plein Air, Jean-Baptiste-Camille Corot" by Flickr user Mike Licht