A new personal web scout called Yotify just launched into public beta today. This service lets you track anything on the internet and only reports back when it has results for you to review. Your Yotify "scouts," as the searches are called, can be shared with others via email, Facebook, FriendFeed, or even directly with the other Yotify members you befriend on the site. But don't worry, this isn't yet another social network designed to waste more of your time. Instead, it's just the opposite: Yotify utilizes the power of the social web to save you time and give you your life back…you know, the one away from the computer?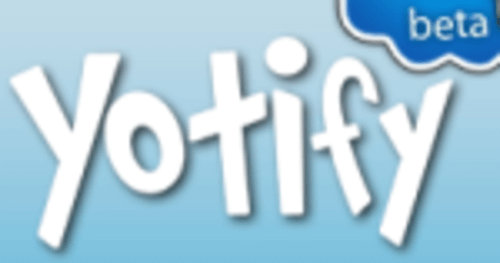 What You Can Do With Yotify
Yotify lets you track any number of things from hotel room rates to sports scores or even the latest videos on YouTube. The list of things you can track is practically endless. To help you find the scout you need, the different types are organized into broad categories which include shopping, fun, travel, classifieds, and news and blogs.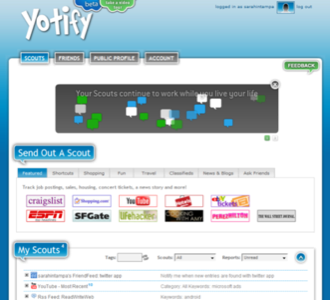 Saving Money
When it comes to product searches, Yotify is very smart. It doesn't just look at keywords, but also lets you know what the current best price is and then lets you select a checkbox to have the service alert you if the price drops below a certain point. You can also optionally check to be alerted when there are new product reviews available. The shopping section features scouts for common searches like digital cameras and laptops, but the shortcuts section lets you create more specific searches for a keyword, like a product ID or model number.

Staying Informed
The News and Blogs section lets you search a handful of sites, including The Wall Street Journal, USA Today, and The Huffington Post among others, but most people won't be satisfied with the small selection provided and will need to turn to the shortcuts section instead. From here, you can track any site's RSS feed, or for sites without RSS, you can search the blog itself just by entering its URL. You can also track changes to search results as well as track vanity search results for your name.
The shortcuts section includes a few other useful scouts, too, including one which lets you track a profile on LinkedIn, another to track local events (provided by Eventful), one for eBay auctions, and even one that tracks your FriendFeed.

Asking For Help
The social aspect of Yotify comes into play under the "Ask Friends" section. Here, you can share your scouts on Facebook and FriendFeed and get responses. Using either option will post your query directly to those social networks and when people reply you'll be informed via email. If you want to share a scout with select friends only, that can be done under the "Edit Scout" section where you can enter in individual email addresses instead. You can also share the scout with your friends on Yotify.
How It Compares
In a lot of ways, Yotify is reminiscent of the newly launched Alerts.com, a service which differentiates itself by letting you receive updates via SMS, email, voice, or IM. In a lot of ways, those various contact options from Alerts.com makes that service the more useful of the two, especially since a lot of our information overload today begins with email, which is currently the only way to receive Yotify updates. However, Yotify's options for sharing your scouts with friends give it a unique twist as do the various options for fine-tuning your searches.
Still, we definitely like the new direction Yotify is going with their service. Instead of adding to our social media burden by creating yet another place to "hang out" online, they're using the network of connections we've already built to make their service more useful to us. Our lives are busy enough, so we hope this is the start of a new trend of smart social apps.