Today Google is launching a new product for the enterprise market, Google Video for business. It's a new application in the Google Apps office suite, enabling workers to upload and share videos inside their organizations. Videos can be shared on an individual, group or company-wide basis. Google sees it being used for such things as executive communications, product training, trip reports, "social videos" for the company intranet.

We think this has the potential to break open the Web Office market, because up till now nobody has done rich media for the enterprise as an easy to use browser-based package. Google Video for Business manages to do this, mostly because of YouTube's influence.
Google Video for business is now available as part of Google Apps Premier Edition at no additional cost (the suite itself costs $50/user/year). Each Google Apps Premier Edition domain gets 3GB of Video storage per user account, with a file limit of 300 MB per video.
Matt Glotzbach, Product Management Director of Google Enterprise, described Google Video for Business to us as "a whole new way of working". He claimed that rich media will be incorporated into traditional email-based business communication like never before. Google sees collaboration as "the 'soul' of Google Apps" and video as the next big step in rich collaboration. Cloud computing, said Glotzbach, is what makes this possible.
How it Works: The YouTube Factor
Google Video for business unsurprisingly has many aspects of YouTube in it. You can easily upload videos, add descriptions and tags, share videos with the click of a button, and embed them in Google Sites and other internal webpages. You can also embed videos as 'gadgets' (aka widgets) in any site that accepts Google Gadgets – e.g. Google Spreadsheets. The gadgets have the same security as web pages, meaning that only authorized users can view it no matter where it is embedded.
Other features borrowed from YouTube include search (of course, but in this case only for videos to which users have access), ability to view high-quality video, ratings, comments and additional tags, ability to download videos for viewing offline or on portable devices.
Google Video for business uses the same infrastructure that powers YouTube. In our call Google noted that YouTube currently has 13hrs of video uploaded per minute! It streams hundreds of millions videos per day. So obviously this infrastructure is robust and can easily add a few more enterprise videos to the mix.
The one big difference though between Google Video for business and YouTube, is security. In the enterprise, security is a key feature.
Google Apps Ramping Up
As indicated by this week's ReadWriteWeb poll, where right now 21% of respondants say they use Google Docs as their main word processing tool (up from 11% the same time last year), Google Apps is exhibiting strong growth and increasing acceptance as an office suite. Google itself says that more than 500,000 businesses use Google Apps, with more than 3,000 businesses signing up every day. It says Apps has more than 10 million active users and "hundreds of thousands" of paid users.
Google Apps includes Gmail, Google Talk (instant messaging), Google Calendar, Google Docs, Google Sites, Start Page for creating a customizable homepage, and now Google Video for business.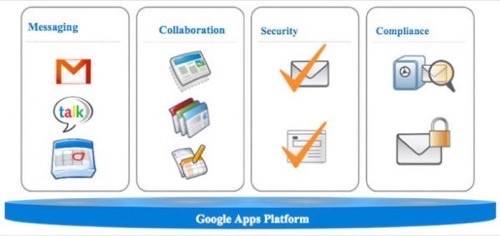 Note: as well as for enterprise, Google says that a version for Google Apps Education Edition customers that allows faculty and staff to upload and share videos with students will be available on September 8 for free trial until March 9, 2009, at which point it will cost $10 per user, per year.
Google Apps vs SharePoint
When Google Sites launched at the end of February, we threw some cold water on the claim that Google Sites would compete with Microsoft SharePoint. ReadWriteWeb's Sarah Perez wrote that "for the small to medium size business, you could say that Google makes a strong offering as a more affordable alternative to Microsoft Servers and applications. However, it's a big jump from offering tools to a mom-and-pop as compared with a global, Fortune 500 company".
But with Google Video for business, Google has taken another step towards tackling the big enterprise market. It may well be a significant step, because with the consumerization of the enterprise these large organizations are getting used to using tools such as YouTube.
Indeed perhaps this YouTube video was one of the inspirations for the Google Video for business team 😉
Competitive Landscape for Enterprise Video: Microsoft, Adobe, Veodia
Google says that there are video solutions for enterprises out there, but that they are "too complex and expensive for all but the largest enterprises". They also claim that competing products require proprietary hardware and software, and are difficult to maintain and use. No specific names were mentioned, but a recent article by Dan Rayburn explains how Microsoft and Adobe are both active in video solutions for enterprise:
"Historically, Microsoft's (MSFT) Windows Media technologies have always dominated the enterprise market for multiple reasons, the biggest being that the WM Player was bundled into the OS and the server is cheap to deploy. And while I think Microsoft still has the majority share of the enterprise market, Adobe (ADBE) continues to get more aggressive in targeting IT decision makers inside enterprise organizations.
With Adobe making the licensing costs for FMS3 a lot cheaper than they use to be, and the fact that live Flash is now considered stable in FMS3, I am beginning to hear from more enterprise customers who are now evaluating Flash."
We mentioned SharePoint above, which allows people to upload video – but there's not much else video functionality. Microsoft also has RoundTable, a video-conferencing solution, as well as Live Meeting and Office Communications Server (which does video).
So clearly Google Video for Business targets both Microsoft and Adobe, as well as other big vendors such as Cisco. Google's solution does appear to be much easier to use, just like YouTube was/is for consumers. Note however that it is not a live video solution, so it can't be used for video conferencing.
Google told us that an early stage startup called Veodia is the only startup they're aware of doing SaaS video for businesses. We looked at Veodia back in June – check out the video below for more details. If any RWW readers know of other startups doing this, please mention in the comments.
Conclusion
Up till now enterprises have been using mostly person-to-person and text-based communication to collaborate. Video hasn't taken off in a big way, perhaps because enterprise video solutions haven't been packaged as easy-to-use consumer-like tools. Not to mention network restrictions. That's not to say video hasn't been used at all – I recall it being used a fair amount back in 2000-01 on the enterprise intranet I was in charge of at the time. However perhaps 2008 is the time when it will ramp up.
No company is better placed than Google to exploit this – it owns the world's most popular consumer online video app (YouTube) and has rapidly become the leading Web Office vendor. It's even started nipping at Microsoft's heels in office software.
There's still a long way for Google to go to catch up to Microsoft in the enterprise software world, but we think that Google Video for business will get them another couple of steps closer. What do you think?