Human history is one of progressive improvement in communication. From the 20th century mail was a fundamental form of communication. The invention of electronic mail (email) changed two things. It became cheap to send mail, and delivery was instant. Email became favored for both corporate and personal communication.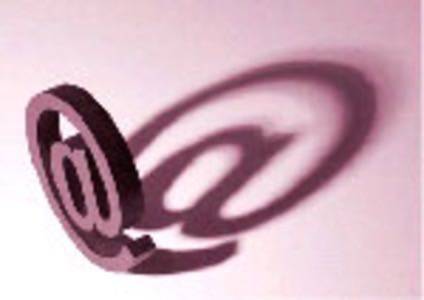 But email faces increasing competition. Chat, text messages, Twitter, social networks and even lifestreaming tools are chipping away at email usage. In this post we take a look at what's happening and assess if email is in danger.
The Twitter Problem
Twitter was invented because there was a gap in public broadcast communication. Doing Twitter over email would be clunky, if not impossible. The ability to post your personal statuses, decoupled from the ability to subscribe to people you're interested in, put Twitter on the map. People are sending direct messages via Twitter instead of sending an email.

Email is perceived as work, while Twitter is still thought of as fun. Twitter messages are short, use is casual, and Twitter is a cute piece of technology loved by the earlier adopter crowd. People send Tweets complaining their Inbox is full.
The Twitter experience is lighter because of the user interface. With Twitter, we're presented with a scrollable list of messages.
With email we need to select the message and drill into it. Traditionally email clients show only the subject line, so even if the message is short, the user needs to click. And all these clicks add up.
The Outlook Problem
Email is a workhorse. Microsoft realised that business people want one tool to do it all, so email was enhanced with calendar, to do lists and other features.

The problem: all this was slammed on top of email, which became the entry point into a black hole known as My Inbox. Short and long messages, business and personal emails, tasks, events – all stacked on top of each other.
Outlook is a powerful piece of software that lets you organise and sort, but you have to drive it. For many, email is hard work and a mess that needs to be dealt with.
Simpler email clients, like Gmail, focus on how to be a better email client instead of being a hammer for all problems. An innovation like aggregating conversations has huge impact on productivity.
In the years Microsoft was adding more buttons to the toolbar, they should have invested more on the core innovation around email and productivity. Wiring in NLP and semantics to extract things like People, Events and Places would be a good start. Designing emails around use cases like "this is a meeting, this is a project, this is a friend" would go a long way towards helping avoid the Inbox clutter.
Breaking Down Email
Since email was the first killer app for the web, it's used for everything. We're now observing a fragmentation cycle where we're discovering better ways of passing around information and getting things done.
Email is fundamentally great at substantial person-to-person communication. The following diagram illustrates why email is facing competition. It cannot effectively support broadcast (except for spam) and it's still poor at helping with tasks and projects.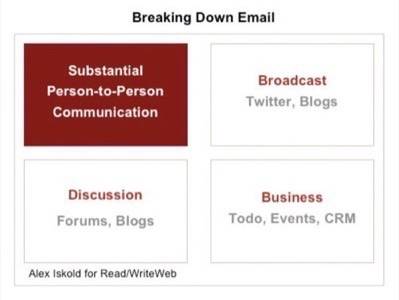 Tools like Basecamp and Highrise from 37Signals are showing there's a way to better project management and CRM while leveraging information in emails. If the Twitter service stabilises it's likely to win over people permanently because of its simplicity and playfulness.
Social networks incorporate direct messaging and chats, making it easy for people to talk directly, bypassing email. These communications are easier than email; they're integrated into the flow and more accessible. To be fair, they're aimed for brief messages.
The increasing speed of our lives and global connectivity reduces the need for lengthy emails. If we're in touch more often, then we reveal less every time we talk. Shorter, more frequent exchanges are replacing the lengthier communication of the past.
Corporate Safe Haven?
Even if consumers shift away from email, it is difficult to see how enterprises could. Microsoft has done a wonderful job winning that market and ensuring companies would not function without an Exchange server. A typical proprietary bloatware, Exchange and Outlook handle it all. It doesn't seem feasible for companies to shift away from email anytime soon.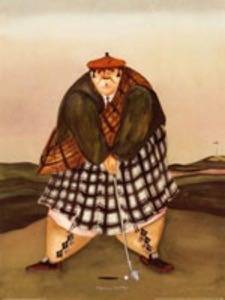 Likely we will see two trends. Google will continue to champion its solution, which, if successful, will bring much needed simplicity to email.
The second trend is simpler project management tools to reduce the functions needing to be done with email. The challenge is that they need to be seamlessly integrated with the email, ideally leveraging its content and automatically generating tasks, events, contacts, etc.
Conclusion
Email has been the blockbuster and the Internet killer app for the past few decades, but it doesn't have a monopoly. New more contextual ways to communicate are emerging and slicing pieces of the email pie, particularly in the consumer market.
We're likely to see a consumer shift from email towards more compact forms of communication, but in the enterprise the email hold is strong and unlikely to be replaced any time soon.
What do you think about the future of email? How have your communication patterns been evolving? What communication tools do you prefer to email?