Nine companies are saying "yes," having recently launched Enterprise 2.0 offerings that integrate with SharePoint technology.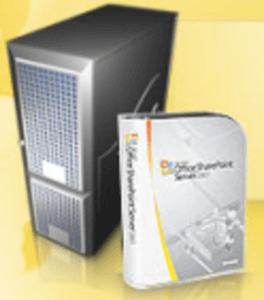 If there's one thing that any I.T. pro knows it's the value of "maximizing their investment" in whatever servers they run, technology they use, or services they've signed up for. With strict budgets in place, no I.T. purchases are bought on a whim. Instead, each decision is researched, tested, thoughtfully considered, and, if worthy, purchased, then rolled out to become a part of the I.T. infrastructure. SharePoint is no exception.
Why SharePoint?
One of the Microsoft Server products that businesses worldwide run is SharePoint. For those not from the I.T. community, SharePoint is thought of as a more robust version of Google Sites, but that's a poor comparison. Yes, both tools allow for team site creation and collaboration, however the similarities start and stop there.
For many companies, SharePoint is the portal for all their business data – and not just docs, spreadsheets, presentations, and PDFs, but also browser-based forms that interact with built-in workflow technologies which add business logic to sophisticated online applications.
Other tools allow for the addition of business intelligence enabled dashboards and reporting centers, enterprise search, and application templates that can be downloaded and customized to quickly set up internal web sites and services that provide everything from online help desks, to groupboard workspaces, to knowledge libraries, vacation scheduling tools, project tracking workspaces, sales pipelines, and much more.
In other words, businesses won't necessarily be ditching SharePoint anytime soon just to run the latest and greatest "Enterprise 2.0" technologies. However, that doesn't mean they're not interested in running Enterprise 2.0 apps – it just means that they'll be more likely to "maximize their investment" in SharePoint in order to do so.
This week at the Enterprise 2.0 Conference, several vendors are demonstrating their social-computing business tools, and a good many of them are tools that integrate with SharePoint technologies. Here's a look at who these companies are and what they offer:
Awareness Inc.
Just yesterday, Awareness announced their new platform that allows for the creation of Web 2.0 communities that connect people and content through social networking technologies and Awareness-powered widgets that can be ported to any third-party services from Facebook to MySpace.
With the new platform from Awareness, Microsoft SharePoint integration is built-in, letting I.T. admins use SharePoint's scalable and searchable back end to tie together internally-facing SharePoint environments with externally-facing social networking/Web 2.0 communities.
This integration also includes the packaging of Awareness's Web 2.0 widgets as SharePoint Web Parts that let users monitor and contribute content, display user details and status, search content, and view metrics. Awareness also integrates with SharePoint's Identity Management to allow for SSO (single sign-on), which makes using both platforms together a seamless experience.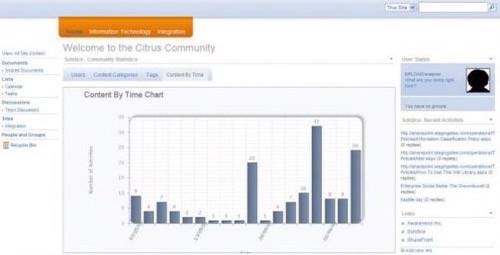 NewsGator Technologies
Yesterday, NewsGator announced the launch of their new SharePoint add-on, Social Sites 2.0. This tool brings new social capabilities to SharePoint Server 2007 including community pages, which are ad hoc communities formed around projects, interests, or locations, and social networking capabilities that let employees better collaborate and share knowledge. Social Sites also includes tools for tagging, search, customized recommendations, and a discussion component that includes email integration. Users are provided with social graphs based on both explicit and implied connections, making it easier for them to find their colleagues and content in an easier way than before.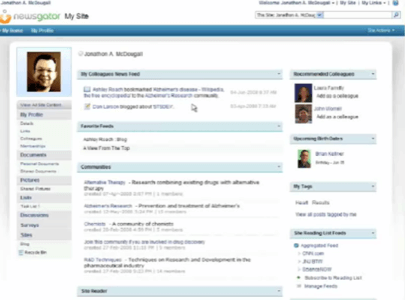 Atlassian
Atlassian, makers of Confluence, an enterprise wiki creation tool, announced its integration with SharePoint through an embedding function that lets the Confluence wiki appear to be a part of the SharePoint site, complete with an edit button for making changes. The wiki lets users add charts, diagrams, image galleries, maps and database content within their pages.
WorkLight Inc.
Yesterday, WorkLight announced its new WorkLight for SharePoint, which lets SharePoint Server users securely view and update information from SharePoint Server through familiar consumer tools like Windows Vista gadgets, Facebook applications, personalized homepage gadgets, RSS, mobile devices, and more.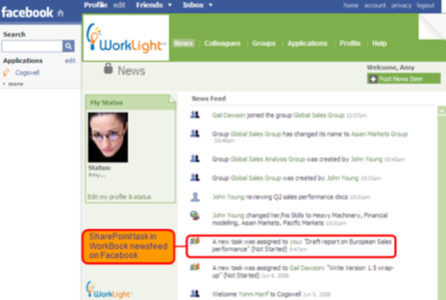 blueKiwi Software
Last month, blueKiwi Softwareannounced their integration with both Microsoft Office and SharePoint. With their new SharePoint connector and blueKiwi OfficeAssistant, their social software suite easily integrates with a company's SharePoint Server to provide social networking tools and capabilities that include blogging, user profiles, conversation trackers, tagging, social search, and more.
Connectbeam
Yesterday, Connectbeam announced their new Spotlight Connect for SharePoint, a bookmarking and tagging add-on module for their enterprise social search-and-discovery application that brings social content, collaboration, and bookmarking tools into SharePoint via a special add-on module available this July.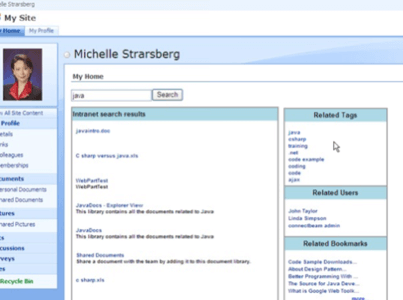 Telligent Systems
Telligent's Community Server Evolution platform uses its REST API, mail gateway, shared authentication and single sign-on, to integrate with Microsoft Office SharePoint Server, Microsoft Exchange Server, and Microsoft Active Directory. Their social-computing platform offers enterprise blogging tools, social networking, social streams, forums, media galleries, and business analytics through detailed reporting.
Leverage Software
Leverage Software announced integration with SharePoint Server, enabling users to interact with external-facing internet communities of their partners, customers, or corporate alumni, while maintaining the security needs of an enterprise.
Tomoye Corp.
Tomoye's Ecco software, which lets you get answers, network, and collaborate across the enterprise, is now offering a SharePoint-ready solution. This capability lets users publish documents from SharePoint to Ecco and supports SSO between applications.