Back in March, we said Adobe was slowly building an online empire. Today, that news turns out to be true. Adobe is has just launched their version of an online office suite available at Acrobat.com, complete with word processor (Buzzword), web conferencing/whiteboard app (ConnectNow), online file sharing (Share), file storage, (My Files), and PDF converter. To complement this launch, Adobe has also announced a brand-new version of Adobe Acrobat, Acrobat 9, the biggest release since the initial one that introduced Acrobat to the world. The remarkable change in this new version is that Adobe is now incorporating Flash into the PDF experience.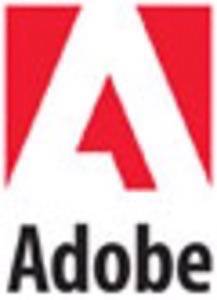 Acrobat.com: Adobe's New Web Office
Acrobat.com is the new entry point to Adobe's suite of online services. Available now as a public beta, from here you can utilize the Adobe web office tools all from one cohesive and integrated suite that allows for anywhere access and online collaboration. At Acrobat.com, you have access to the
following web office tools: Buzzword, ConnectNow, Share, My Files, and Create PDF.
Buzzword
Buzzword (our coverage) is the Adobe version of the word processor. Like all of Adobe's online tools, Buzzword is sleek and elegant. Instead of simply trying to port desktop software to the web, Adobe's vision seems to be more focused on creating something fresh, built specifically for the web with online collaboration in mind. In lieu of AJAX, Adobe's tools utilize Flash/Flex to provide the beautiful UI and a true WYSIWYG experience. Whether your Buzzword document is on a large screen or small screen or on a printed page, what you see on the screen – fonts, letter spacing, colors, and graphics – are all reproduced perfectly.
Buzzword also stands out for the way they've implemented online collaboration – instead of names in sidebar like in Google Docs for example, the complete list of a file's collaborators are always displayed prominently at the bottom of a document along with their current status – reading, editing, etc. – as well as the date and time of the last version they viewed.
Collaborators can be given roles like editor, reviewer, co-author, and reader and depending on those access levels, they can either write, edit, or comment in the file. The comments are highly visible and color-coded by user which makes it easy to see what's being said and by who.
The different versions of a document are also easily accessible from the bottom of the screen. You can slide your mouse along a timeline whose dots which indicate the different versions, gliding smoothly from one version to the next.
Buzzword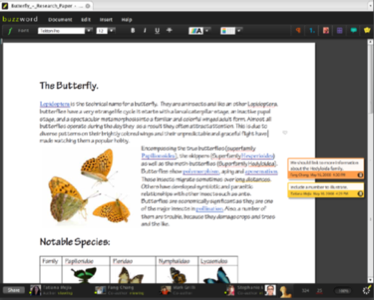 Connect Now
Another piece of Adobe's office suite is ConnectNow, an online whiteboarding and web conferencing tool. ConnectNow allows for live meetings over the web and offers screen sharing, chat, whiteboards, VoIP, and video conferencing. Like the other products, ConnectNow doesn't clutter the screen with the many features is offers, yet the intuitive layout makes them somehow seem to be never far from reach.
Participants can be assigned roles which can be changed at any time during the meeting. These roles provide for their ability to share their screens with other members and make notes. Since audio is integrated in the app, companies can save money that would have been previously spent on teleconferencing bills. However, if traditional teleconferencing is preferred, Adobe provide numbers via Vapps voice conferencing service – you would just pay the long distance charges.
The only drawback to ConnectNow is its limitations in terms of number of people. Currently, only three people can use the service simultaneously, which limits its ability to offer a true alternative to a business's current web conferencing solution.
ConnectNow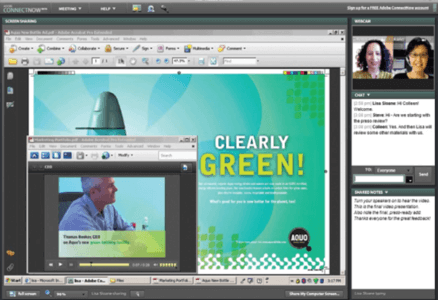 Share
Adobe Share is a tool that allows you to share files with others. Instead of emailing large files, you can share your file from this app and still maintain control of the document. You approve the recipient list and what access they have to the file. A document previewer built into Acrobat.com also lets you launch and view PDF and image files right in your browser instead of having to launch the original application.
Although Share has been available since fall of 2007, now that it's more visible as part of this office suite, its ability to allow document embedding will compete more directly with Scribd.com. Like Scribd, Share embeds aren't limited to one particular type of file, but support many major formats, even video.
Share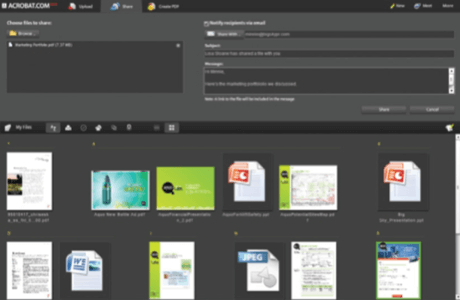 My Files
My Files is a document organizer and storage space whose UI helps you locate documents quickly. You can browse by author, file type, alphabetical order, date created, last updated, or a combination of multiple filters. With 5 GB available for use, you have space enough to store a healthy collection of files.
My Files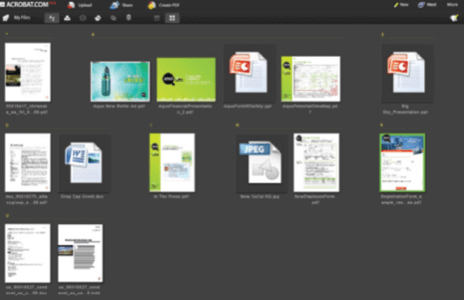 Create PDF
From Acrobat.com, you have access to a free online PDF converter tool which lets you create PDFs from your existing files. However, this tool is meant to be more of a "wet your whistle" offering, designed to pull you into purchasing the full version of Adobe Acrobat 9. With Create PDF, you are limited to only 5 conversions per user.
Adobe Office, the AIR App
What makes this online office suite even better is that Adobe is also making it available via an AIR application. The app comes bundled with the new version of Adobe Reader and lets you work with your Acrobat.com files outside of a web browser. Unfortunately, the application as of now requires you to be online, despite AIR's support for offline sync. However, offline access is on the product roadmap in the future.
Acrobat 9: Now With Flash
Adobe's newest version of Acrobat has also been announced today, although the actual product won't be available until sometime in July. Designed to maximize Adobe's acquisition of Macromedia, Acrobat now includes native support for Flash.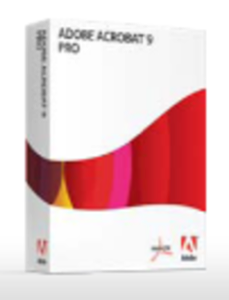 Although there were ways before to integrate a QuickTime or Windows Media file into a PDF, it was not native nor a seamless experience to do so. Now, in Acrobat 9, inserting a Flash file is as simple as choosing a file from the "Insert" menu.
Adding Flash Content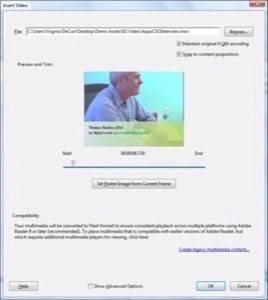 Also in Acrobat 9 is the new concept of PDF Portfolios. Within these portfolios, you can combine multiple media types – like documents, audio, video, even 3D objects – and compress them into one PDF file. Thanks to the Flash integration, these files can be easily branded using built-in professional templates and options that allow you to add custom navigation and choose from a variety of layers, colors, themes and more.
For those working in teams, Acrobat 9 includes capabilities for real-time collaboration right within a PDF file and enabled via Acrobat.com. In order to use this capability, a collaborator will either need Acrobat 9 or will need to commence the sharing via Acrobat.com. Recipients will also need version 9 of either Acrobat or the free reader.
Once sharing has begun, collaborators can work together in real time and control of the screen can be easily passed back and forth. As one person scrolls to a new page or zooms in, the information is immediately updated on the other collaborator's screen. And because the only information being passed is a series of actions and not a screen scrape, impact to a network's available bandwidth is minimal.
For professional users of the paid version of Adobe Acrobat, there are varying levels of features available in the Standard and Professional allowing for the ability to create, convert, track, and protect PDFs, among many other things. However, all versions are enabled to work with Acrobat.com and, despite all these new features, the latest version of Acrobat launches in half the time as Acrobat 8.
What's Next
For now the suite of services at Acrobat.com is free and it will remain free for personal use, but there are plans to offer a business-friendly paid version in the future which would allow for administrative access and control as well as support.
What's unknown is to what extent a professional, paid version will uncap some of the current limits on the tools (5 GB of storage, 3 users in web conferencing). It would certainly make sense to do so, but at this time we don't know anything about pricing or what the new levels would be.
Also noticeably missing from this version of the Adobe online office suite is any sort of spreadsheet or slideshow creation tool. However, Adobe confirmed that both of these are planned for the future, as is offline access via AIR.
There's still a chance to see more integration with other Adobe products in the future, too. In March, we confirmed that Adobe foresees Photoshop Express integration with Buzzword was a real possibility, for example. When these changes and additions are to take place though is anyone's guess.

Implications of Adobe's Web Office
What is clear is that Adobe hasn't been sitting idly by watching as services move to the cloud. This launch of a hosted suites of services, not to mention this huge shift with Acrobat 9, now a web-powered tool, shows the company's focus on combining the best of web office tools with their current set of products.
Even with all these new, integrated products and services, you still get the sense that these are all tools meant to enhance the Acrobat experience as opposed to an attempt to compete with traditional business software like Microsoft Office. If anything, their word processor seems like more of a way to begin the task of PDF creation – especially with the service's handy "convert to PDF feature" – than it is an attempt to be a Microsoft Word competitor.
Google should take note of Adobe's use the web to maximize their core products. Instead of providing seamless integration amongst their web offerings (mail, calendaring, docs, etc), Google seems more caught up trying to build a simplified "Microsoft Office killer" in the cloud, and luring people into using it for its collaboration aspects. With every new announcement, the focus for Google has been on playing either a game of feature-by-feature matching or one-upping Microsoft instead of trying to solidify a brand experience for a collaborative suite of products. For users who don't go the "docs for your domain" route, there's definitely a sense that the Google tools are very separate products, and even those "business" users only see minor integration between each service. Even basic tasks, like making an email an calendar appointment, for example, are currently beyond Google's reach.
Also Microsoft's attempt to move to the cloud with Office Live Workspace doesn't come nearly as close in terms of focus and direction as this new Adobe service does, even with Office's new built-in functionality to open and save files to and from that web-based service. Instead, it almost seems a holdover product until Live Mesh is unleashed on the world. Adobe, on the other hand uses their entire platform – PDFs, Flash, Flex, AIR – to provide a cohesive brand experience that focuses your attention on upgrading to their paid software – a wise business move for them. And like both Google and Microsoft, Adobe can capitalize on name recognition and a large userbase to migrate people to web computing – an obstacle that lesser-known suites (at least outside the tech bubble) like Zoho and ThinkFree still must overcome. Adobe is now certainly one to watch – it will be interesting to see what comes next as Acrobat.com grows to become a business tool that companies would consider paying for.