Yahoo! Pipes is one of the coolest ways to mashup the RSS feeds of various sites and sources to get the data you want. Since our coverage of Yahoo! Pipes, thousands of creations are now available. However, finding the best picks can be tough. ReadWriteWeb has done the hardest part and comprised a list of some of the best Yahoo Pipes created by users. So without further ado, we give you the ultimate Yahoo! Pipes list.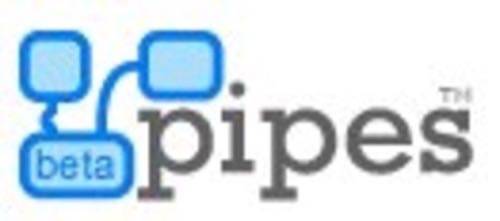 Social Submission and Aggregation Yahoo Pipes
Social Site Submission Watch Dog

The Social Site Submission pipe allows you to keep track of all of your articles that are submitted to either Digg or Reddit. Just enter in your site url without the 'http://' (readwriteweb.com) and you'll receive a list of links of your site submissions along with the current number of Diggs your article has received. Grab the RSS feed to keep track of your site submissions.
Social Media Firehose

Search some of the most popular social media sites for brand, product, or keyword mentions with Social Media Firehose.
Digg, del.icio.us, Reddit, Slashdot mashup v2

Grab a filtered mashup of news from popular submission sites like Digg, Reddit, Slashdot and del.icio.us.
Super Digg Feed v2.0

Receive configurable alerts for stories on Digg in specific categories or with a specified number of minimum diggs along with a host of information to help you decide what's hot and what's not in the Digg community.
Meta Search Alerts

Aggregate search results from Del.icio.us, Flickr, Google Blog Search, Google News, Icerocket, Live Search, Technorati, Yahoo News and more with Meta Search Alerts.
Content Keyword RSS

This pipe will search news sources from multiple sites such as Digg, Technorati, Yahoo News, PRWeb, and Google News, compare content to remove duplicates and output a unique RSS feed full of content related to your keywords.
FriendFeed Minus Twitter

Get the latest from your FriendFeed stream, without the noise from Twitter.
Twitter Feed without Replies

Grab this feed to import your Twitter stream into social aggregation sites such as FriendFeed without your replies to users.
Twitter Link Moniter

Want to keep track of all those great links that your followers on Twitter send out? The Twitter Link Monitor pipe does that for you. Simply enter your username and the pipe will instantly grab all that great content you just don't want to miss out on.
Friends Name Alphabetical

Interested in knowing how large the followings of your followers are on Twitter? This is just the pipe for you. Friends Name Alphabetical provides a list of who your following and how many people are following them. Just in case you ever want to be nosy.
RSSmeme's Filters

The best and only filter out there for Google Reader Shared Items aggregator RSSmeme. Keep track of how popular your favorite sources are or find some of the most popular stories on RSSmeme with this Yahoo Pipe creation.
Pricing Alert Yahoo Pipes – Catch That Deal!
eBay Simple Price Search

This Pipe was designed to search with a specified price range in eBay.com. Add your search terms along with your minimum amount and maximum amounts to keep up with the best deals on eBay.
Amazon, Craigslist and eBay price watcher

Save time tracking the best prices for an item on Amazon, Craigslist, and eBay with this pipe creation.
Amazon Item Search

Searches for items by keyword on amazon.com Get the title, price and in the description you get the average rating. When you link some product just click on its link and you will be on this Amazon's product page.

Netflix To Amazon

Takes your Netflix feed for movies at home and replace each item with the most relevant results found on Amazon. Description include an image, pricing, and more. Grab your Netflix userid by looking at your personalized feeds on Netflix.
Bestselling Books

Keep up with the Amazons bestselling booklist. This Yahoo Pipe creation is updated hourly to include the most popular books on Amazon.
Amazon Books: Movers and Shakers

Find out what books are hot and what's going out of style on Amazon with this Yahoo Pipe.
Amazon Books: Most Wished For

I could never find that perfect book for a family member or friend. If you're in the same boat, keep up with Amazon's most wished for books and opt to go with the crowd. At least if they don't like the book you can blame it on the majority of Amazon's customers.
Media Yahoo Pipes
New York Times through Flickr

Here's a unique way of looking at the New York Times via Flickr photos. Keywords for NYT's homepage are passed through various filters to find matching photos on Flickr.
Last.fm Recent Tracks + Youtube: Last.fm meets YouTube

Find the Youtube videos for your Last.fm playlist.
Favourite Artists News

Keep up with the latest news on the artists from your Last.fm favorite artists.
Recently Played Streamable Songs (Last.FM)

A list of recently played songs filtered to only include songs that are streamable on Last.FM
Muxtape Recommendations

Enter your Last.fm user name and this Pipe will find featured Muxtapes that include at least one track from a favorite artist of yours. The Pipe is a little buggy so you may need to run it a few times.
Free iTunes Downloads – Videos

Keep up-to-date with the latest free TV and video downloads available from the iTunes US Store.
Free iTunes Downloads – Songs

Want to know about the latest free song download available from the iTunes US Store? Grab the RSS feed of this pipe to keep up.
New Movie Trailers

Grab the latest movie trailers from iTunes mashed with their video counterparts on Youtube.
YouTunes Top 100

A clone of the popular YouTunes pipe, find the music videos of the top 100 songs on iTunes.
YouTube tags to RSS

Be alerted when videos on Youtube are tagged with specific keywords that you may be interested in watching.
Did We Miss Something
Yahoo! Pipes is the first GUI builder for the biggest database in the world, the Web itself. This list is far from complete, but it's comprised of the best Yahoo! Pipes creations available. If you have a creation or know of one that didn't make the list, leave a comment down below and we'll be sure to review it to keep growing our list.