Today, the battle between the two most popular AIR apps as of late has begun. Yesterday, the FriendFeed AIR app, Alert Thingy, having only just launched on April 13th, was already getting an update – this one to include Twitter support via a built-in "Tweet" button. Not to be outdone, Twhirl wasted no time in providing an update of their own, seemingly crafting their updated version overnight. Now Twhirl includes FriendFeed support and Alert Thingy does Twitter, but are either of them really giving users what they want?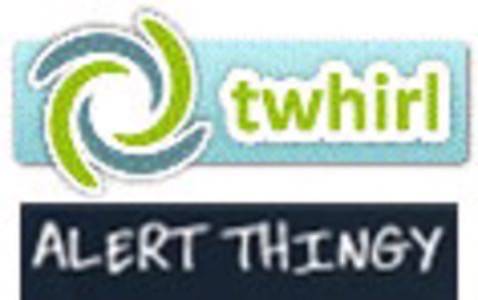 This morning, the news was all over the web. Arrington wrote a restrained review due to his ties to Twhirl, so the better analysis was found on other sites. Corvida of SheGeeks, for one, proclaimed that the new version of Twhirl was "not as bad as I thought;" Frederic of The Last Podcast, thinks "Twhirl still needs some polish as a FriendFeed client"; and of Brad of the Download Squad thinks "Twhirl has a much stronger Twitter client than Alert Thingy and Alert Thingy has a much more elegant FriendFeed interface.&quot
However, we have to question whether either app is delivering users what they really want or if they are both just caught up in one-upping each other on features.
Yesterday's announcement of Alert Thingy's "Twitter support," for example, simply added a button that allowed you to tweet from the app, but the ability to reply via Twitter was still not present.
Meanwhile, today's Twhirl update – so new that it doesn't even come via the automatic update feature – introduces FriendFeed support, which displays in a separate window, essentially making it feel like you're running two applications anyway.
What neither app does is include all the features people want – a combined interface with the optional ability to pop-out into separate windows, replies via Twitter, and, of course, the duplication of FriendFeed's feature set in AIR form, such as the ability to do things like push "likes" to the top and display additional comments within the app.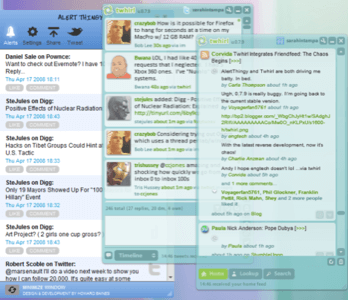 Despite the rapid inclusion of new features and overnight updates, it appears that instead of pleasing fans, some people are actually becoming somewhat concerned. Take, for example, the comments on FriendFeed surrounding the update (from here and here):
While it's entirely possible that future releases of one or both of the clients will do away with the inconveniences that are apparent now, we wonder if users would not be better served by slower to appear, major releases that include all the requested features instead of having to deal with the hassle of incremental, unfulfilling updates on an extremely fast-paced schedule.