Digg's long-awaited recommendation engine might be the most anticipated upcoming feature at the social news site. It was first mentioned by Kevin Rose at the EmTech conference last September, and a month later in an interview with Jay Adelson. In December of last year we published an interview with the creator of third party Digg recommendation engine DiggFilter. Today, DiggFilter isn't your only option.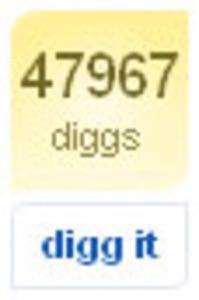 This morning, via Digg (where else?), I came across DiggSuggest, a new third party Digg recommendation service. When we talked to Dmytro Mulyava, who created DiggFilter, he was coy about what his recommendation algorithm looked at, saying only that it utilized "digging patterns." DiggSuggest's creator, Ben Guild, is equally coy, saying just that his service creates a database of recently submitted Digg stories and then "compares them to both your Digging history and their current popularity to give you great suggestions on what to Digg next."
So while we don't know how each service works, surely we can figure out which works better. To that end, we put them head-to-head and came up with our opinion.
DiggFilter
The point of DiggFilter is to suggest "fresh content," according to its founder. "There are many, many stories submitted to Digg on a daily basis, more than anyone could ever sift through. Most of these stories never make it to the front page, and as such are undiscovered by the majority of the people. Hopefully the tool will help users find these hidden gems that the majority of the community moderated so they couldn't be promoted, but may be of interest to you," Mulvyava told us.
But after entering my name, DiggFilter told me that I was "a tough one" and warned me that my suggestions "may not be accurate." That didn't really inspire confidence in the service. However, the suggestions were actually pretty good — it was mostly stuff I would digg. But almost everything it suggested was either from ReadWriteWeb (naturally I have dugg a lot of RWW content in the past and it must have seen that), already promoted (like this — which was also a couple of days old), or sitting high in upcoming.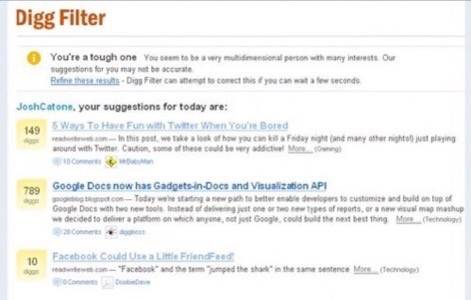 Yes, it suggested things I like, but none of it was stuff I was unlikely to find. If I'm an avid Digg user, and if I'm using a tool like this you can probably assume I am, I probably have already seen everything high in upcoming and made popular in the categories I frequent. And any site that I have dugg very often (like RWW), I am likely a regular reader of. In fact some of the stuff it suggested was stuff I wrote (though of course there is no way it could have known that).
DiggFilter offered me a way to refine the results, but that just made things even worse — all it did was strip out the non-RWW suggestions. DiggFilter's algorithm seems to put a lot of weight on stories from domains you've dugg often in the past, and it probably shouldn't.
DiggSuggest
DiggSuggest isn't nearly as pretty as DiggFilter, but functions in generally the same way: you put in your username and it gives you back suggestions. Along with suggestions it prints an enormous list of keywords culled from things you've previously dugg. The list is laid out like a tag cloud, but without text size or weight changes to show you which keywords appear more in your Digg history. That's unfortunate, because a real tag cloud would make the list somewhat useful, or at least interesting; as is, though, it is fairly useless.
The actual suggestions were very different from those given by DiggFilter. The most immediately noticeable difference is that most of the stories it suggests have very few diggs (under 10). Only a handful of its suggested material had made the main page.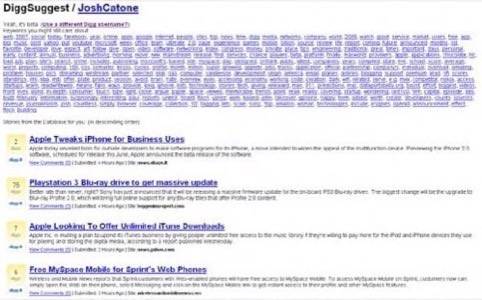 DiggSuggest also recommended just one story from ReadWriteWeb (though it included that in my keyword cloud). The reason for both of these things might be that DiggSuggest only suggested links to me that were submitted in the past 5 hours. Because the links in their db are more recent than those that DiggFilter is working with, it probably has less RWW content, and less popular content to begin with.
As for the suggestions themselves, they were predictably tech heavy with a bit of politics sprinkled in. My guess is that DiggSuggest might take when you dugg something into account when looking at your Digg history. For example, a year ago when I wrote for a political news web site, I tended to digg more politics-related stories. Today, writing for a tech site, I tend to digg more technology-related stories. If DiggSuggest is as smart as I am giving it credit for, it may have looked at my history and decided I am more into tech now, but at one time I was into politics, so it might as well sprinkle in some politics recommendations as well. (Slight caveat: I do still digg political stories on occasion, just not as often.)
Conclusion
So which is better? For my money, DiggSuggest offered superior suggestions. While both gave pointed me at things I would be interested in reading, and DiggFilter may have even done so more consistently, DiggSuggest definitely was better at highlighting content I was less likely to see.
Of course, whenever it finally arrives Digg's official recommendation engine will likely be more sophisticated than either of these. It probably won't just look at what you've previously dugg, but also what people like you have dugg, what your friends have dugg, and what the people who have dugg stuff you've dugg have dugg. It could even also look at what else was submitted (or dugg) by people whose stories you've dugg in that past. I'm not sure that the Digg API offers outside developers enough information for a third party to come up with a recommendation engine that could be as sophisticated as Digg's may potentially be.
In the meantime, though, we have DiggSuggest and DiggFilter to help us find undiscovered content on Digg. Which do you like better? Let us know in the comments on this post.